I don't make resolutions at the start of the new year or the end of the old. I'm not very good at keeping them, and making lists of things I should be doing, and to be honest, there are SO many things I could put on list, that it would rapidly become overwhelming and highly achievable unless we had a personal assistant, a cleaner, a chauffeur and an accountant all move in with us, and I developed Mary Poppins superpowers.
One thing I do know, though is that I need to start looking after myself more. My therapist often pointed out that I am so busy running around after other people, that I forget to look after myself. It has taken me a long time to work out that as someone who looks after other people, who works hard to give into other people's lives, who is trying to parent, be a wife, a friend, I need to look after myself, to make sure that in all of that, I don't become depleted, swamped and drained. If I don't take care of myself properly, how on earth can I take care of anyone else? I also think that someone who looks after themselves, and shows themselves a level of self respect, in caring for their own needs, as well as the needs of others, sets a better example, than someone who slogs hard, puts everything and everyone else before themselves then ends up a wreck, unable to actually do or be anything.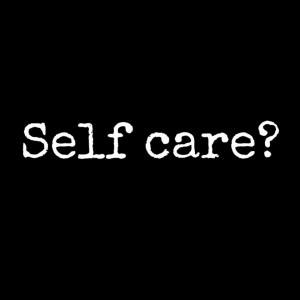 Self care, I believe is the new trendy phrase? Or perhaps it's not that new, but it's a word I am adding to my vocabulary, and my priorities.
At the moment, I don't actually know what that looks like. I am not an extravagant person. I don't want every other weekend to be a spa weekend. I am not expecting to suddenly have masses of "me time", nor am I going to take up horribly taxing exercise classes.
I think for me, there is a lot of mental self care needed, and some physical. When I am looking at what is normally a busy week or month, in my diary, crammed with activities for the children, social events for the adults, or the family, work meetings, volunteer arrangements, and the usual hum drum of practical stuff like doctor and dentist appointments, do I see any time where I can slot in an hour or two for myself, to go for a run, to go to a cafe and read, to meet a friend I don't normally see, for a catch up? At the moment, I don't get much of that, and I need to make more effort. I need a little down time, to breathe, to not be "wife, mother, blogger, charity director, toddler group organizer, safeguarding facilitator, friend, mentor, employer…"
I also need to maintain some physical self care. My amazing sports injury specialist and phsyiotherapist, between them, seem to have worked a minor miracle, and whilst my knee is not a normal knee, it is "better" and I am being allowed to exercise. I can start gently running again (which goes along with mental self care, because running helps me to clear my head and burn off frustration and emotion) which will be good for my body too. I need to make more effort to do things like actually get my hair cut, in a hair dresser, not just hack off the ends and attack my fringe with a pair of scissors while the kids are in the bath, and I realise the sheep dog look isn't really me. I have made a list (yes, I know, I said no lists, but this is a nice list) of books I want to read this year, and I want to get better at doing things I love like knitting, baking, and writing, to enjoy them.
Learning to balance things, to weigh the needs of others, against my own mental health and capacity, saying yes a little less, and a gentle no a little more often.
At the age of 39 (and a half, my children tell me the half is important) I am finally starting to look after myself a bit more. Teaching myself that looking after me, isn't selfish or self centered. Letting the anxiety of what people will think if I put myself first a little bit more, dissipate. Being better for myself so that I can be better for the world around me and the people I love.
That can't be a bad thing? Self care. This year, I am going to learn.