Hello again. Emily here. I wanted to tell you about my trip to see I believe in Unicorns. I went to see it, at the theater with my class at school, and really enjoyed it.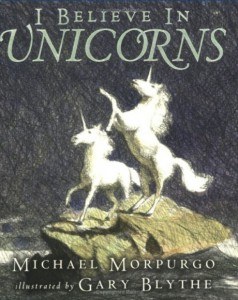 I haven't read any of the other books written by Michael Morpurgo, yet, although Mum says she is going to download some for me to my Kindle, but we are reading this as a group, because I am part of a Battle of the Books team, for my school, and my teacher thought it would be a good idea to go and see the play, about the book, as well as read it.
It was a bit different from plays I have been to before, because you sit on the floor and it is just one lady, who does all the acting and characters and she also gets the people in the audience to take part and help her. She is very clever and uses lots of props and moves all over the place to tell the story.
The story is about Thomas, who hates reading and doesn't like books much, but his mum makes him go to the library where he lives and he learns to love the stories being told by the lady who works there, and when his village is attacked during the war, he works with the other villagers to save the precious books and her special magical unicorn.
It's quite sad in parts, but also helps you to see why reading books and looking after books is so important and it made me realize I am lucky that I have a mum and dad who really encourage me to read and learn and explore the world around me through books. It has a nice ending, so don't worry if you go to see it and it seems a bit scary in the middle. I am looking forward to reading more of his books.
I really enjoyed it and the rest of my class did too, even the boys who thought it would be boring. So maybe unicorns are magical and we believe in them, after-all…
*Note from my Mum*
I have to admit I didn't know what to expect, I went with the class to help out and have to say it was a thoroughly enjoyable experience, and totally not what I expected at all. Very cleverly done and a good way to encourage a love of books. I will definitely be getting more of Micheal Murpurgo's books for Emily to read, and also for myself.