I am always on the look out for products that are effective but also kind to skin, and I like to try things that are a bit different too.
Deodorants are a funny thing to blog about. It's kind of personal, what you put on your armpits, to keep you feeling clean and fresh, and hopefully smelling nice. I now have a daughter who is very active, and is starting to need to think about wearing deodorant (how did that happen? Excuse me whilst I go and shed a few tears over some baby photos, I will be back in a minute!) and I wanted to find something that would be gentle on her sensitive skin, but also effective.
So we thought we would share about our new find.
It's called Hippy Paste. I already liked it because of the name, LSH will tell you that I do have some hippy tendencies.
It's not a "traditional" deodorant you would buy in your grocery shop or in the pharmacy.
Hippy Paste have this to say
Here at Earth Conscious we believe it's just as important to consider what you put on your body as what you do in it. Common antiperspirants work by releasing aluminium into your body which sits in your skin. When sweat meets the aluminium, it reacts to form a blocking barrier stopping the sweat from getting through. The result, toxins go elsewhere rather than being released through sweat. Now, call us hippies, but this doesn't sound like a good thing to be doing right where your lymph nodes sit and for women right close to your breast tissue. We have created a deodorant that only contains 100% natural ingredients and will not block sweat pores. Hippy Paste contains no aluminium, parabens, carcinogens or toxins. Your body will be free to release toxins through perspiration, while you smell fresh.
Everything we apply to our body either sinks in or gets washed off. It will reach our bloodstream or be washed away infecting our waters. Triclosan is commonly found in deodorants and is highly toxic to marine life. It is thought that ingredients such as Triclosan are having a devastating effect on our eco systems as it has been found widespread in algae, the bottom of the food chain. Then there are microbeads which are ingested by fish themselves. Of course, if you eat fish then this is all finding it's way back into the human body too. This really needs to stop. Hippy Paste contains only natural ingredients that pose no danger to marine life when your deodorant is washed away. No Palm Oil. Environmentally Friendly Packaging.
Sounds good, doesn't it? But does it work and do I smell ok at the end of a very busy, active day or after I have been for a run? I do get, ahem a bit sweaty, and don't want to be unsociable.
It's easy to apply and you don't need a lot, to cover your armpit area. The paste is gentle, smells nice (and it comes in 6 different scents) and it doesnt irritate my skin, or Emily's when she uses it.
For day to day use, it seems to be as effective as a normal spray or roll on deodorant. I do get a bit sweaty, but the odor control is good, and I don't feel uncomfortable.
The real tester though was being ill. I have had proper flu recently, and without going into the realms of too much information, I got very sweaty, whilst fighting off the fever that came with it. When I tell you that my armpits were the only bit of me that were not an unhappy place, I am not joking. Sorry, that was TMI, I know.
Emily really likes the paste too, she feels grown up because she can use deodorant, whilst I feel good that she is using something gentle on her skin, and it works for her too.
They have such pretty tins too, that look nice on your shelf in the bathroom. They are small enough to fit into a bag or sports bag too. Cost wise, they are good value for money, compared with what you would buy in the shops and because a little goes a long way, they last well.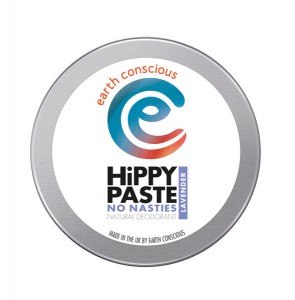 We like Hippy Paste so much that we have got a tin to give away to one of our readers. All you have to do is tell us what is important for you, when choosing a deodorant for yourself or for family members? Comment then follow the link to Rafflecopter and complete the instructions. One winner will receive a tin of Hippy Paste in Mint (which is my personal favourite)
Terms & Conditions
One winner will be chosen, via Rafflecopter.
No cash or alternative prizes.
UK entrants postage is free but if you enter from abroad postage may need to be covered if the cost is greater than UK First Class next day postage.
Giveaway ends February 15th 2016