So we have something amazing for you and we don't just mean it is just amazing, but it's also called "Amazing". It's a a monthly printed magazine that spans the National Curriculum, for boys and girls aged 7+ and it's designed to get children learning in a brand new way. It's fun, colourful, full of educational activties and ideas and it's a perfect way to add that bit extra to help your child with learning at school without making it hard work. It's a really clever idea. My kids love comics and magazines, but I resent paying what seems a fortune for the ones we buy in the shops that come with a lot plastic bits but aren't really of much substance. This seems an ideal way to appease their need for a magazine or comic and I know they are getting something that's value for money and actually good for their brains 😉
Amazing Magazine say "Our wonderful issues combine academic subjects with interesting and creative topics that children will actually want to read" – music to parents ears, I think…
We have 10 editions of the May copy of Amazing Magazine to give away. 10 winners will be sent a copy of the May edition to have, and hopefully enjoy with their children or grandchildren.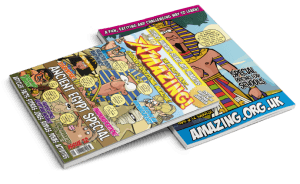 To enter, all you have to do is tell me what your favourite and worst topics at school were, and why, in the comments section, then click on the Rafflecopter link and follow the instructions.
My worse subject at school was physics, I was AWFUL at it, I found it boring, and didn't understand it. I gave it up as fast as I was allowed. I loved History and English though.
We also have a special code for our readers if you subscribe to recieve Amazing Magazine for your children. Just enter WOW10 to get 10% off.
Giveaway Terms & Conditions:
Open to UK residents only.
Participants must adhere to giveaway requirements
No cash prize alternatives.
Winners will be chosen at random by Rafflecopter and will be notified by e-mail.
Copy of magazine will be sent after April 15th.
10 copies available, each winner will receive one copy.
Ends 09/04/2016