When your child gets slightly older, they will want to decorate their bedroom so that it looks as cool as yours. They will start going to their friends home and will see ideas of what they want in their bedroom. They will also be having other children over for playdates, so it's great to have a lovely bedroom for them to visit. Here are three ways to make your child's bedroom look great.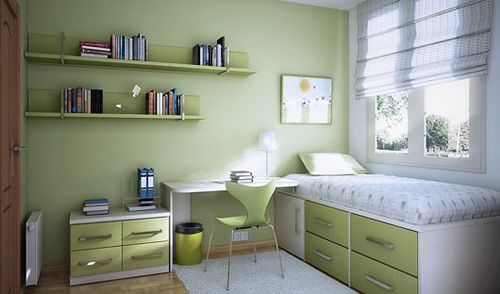 Image by jingdianjiaju
Buy funky beds
Changing your child's bed to something more fun will help to make the room look great. Bunk Beds have been highly popular for many years now. It makes the child feel like they are going on an adventure at bedtime. They are also great if you have more than one child, and are perfect for making the most out of limited space. As talked about here, you could even avoid the mess by having storage boxes underneath the bottom bunk. You don't have to have a bottom bed either; some people have a desk there for their child to do homework or some reading. Or they often leave it free and put a chair underneath, or some storage boxes.
Another fun bed every child is keen for is a mid sleeper bed. These beds make the most of space by having drawers underneath for storage purposes and are perfect for having friends over. See here more mid sleeper bed ideas including fabulous cabin beds which are truly unique. The little cabins would be perfect for a sleepover and will make your child feel like they have gone on holiday. If you still want a single bed in your child's bedroom, you could go for a fun pirate shaped or car shaped bed for a little boy. Or even a princess bed with a canopy is a great way to add some glamour to your little girl's bedroom.
Add shelving
Adding some shelves is a great way to help your child's bedroom look great. You could put some cube shelves up which will make an impact, and could be filled with toys, photo frames and books. To make it look cool, you could paint the shelves different colours which your child will love. Adding fun shelving is a great way to use the space, especially if the room is small. Check out more great shelving ideas here on Pinterest.
*This is a collaborative post*