You may not know this about me, but I don't drive. I choose not to, I don't like it. But, we as a family, do own a car, and my husband regularly drives it, and I whilst I don't drive it, I actually do know how to change a car tire and the importance of being able to know what to do, if you have a flat or damaged tire. It was actually something my first serious boyfriend taught me to do, and it's a skill I've never regretted learning. I personally think that everyone who uses a car regularly, be they the driver or passenger should know the basics of tire changing.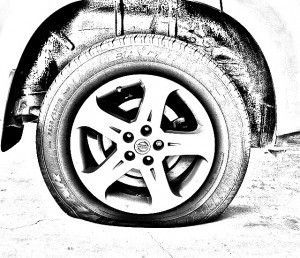 I've been in a situation, where I was in the car with a friend and we realized that one of the car tires was flat and she didn't know what to do, but I did. As we drove, we noticed an unusual noise, a sort of rhythmic thumping sound, and we stopped and checked, and saw that the car indeed had a flat tire. Probably from being damaged or punctured. We both knew it was unsafe to carry on driving, with the tire in that state, and that we'd need to repair it or change it to be able to continue on our journey. It seems a little ironic that me, the non driver, knew how to take the damaged tire off, and check the replacement one, and put it in place, properly, but it was a good thing I did because whilst she had roadside assistance cover, we didn't have time to wait for them to come and help us, we needed to be somewhere and because I was able to help her change the tire and get us back in the road, we made it in good time. She had all the correct equipment we needed and a manual too, and fortunately she had a spare tire that was useable stored in the boot of her car.
It's not only important to know how to replace a damaged tire safely but also to regularly check that the the spare tire you are carrying is in good condition and safe to use. It's good to replace a damaged tyre or the spare you've used as soon as you can, with companies like Point S car tyres, you can check out the complete range of tyres and their prices online."
Would you know what to do if you had a flat or damage tire? Do you have the right equipment in your car to be able to deal with that? Have you ever had to change a tire or be unable to and had to call for help? I'd love to hear your tire changing stories, good or bad…?
*This is a collaborative post*