Welcome to our week in photos. Snapshots from our slightly crazy week, usually cake, always coffee, with the odd grumpy cat thrown in there for good measure…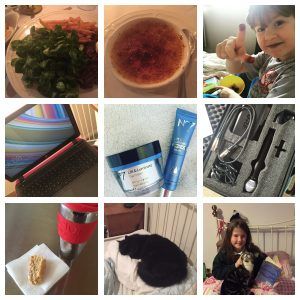 My boy has been recovering from chickenpox this week, it's been a bit of a challenge trying to make him as comfortable as possible, dealing with itchy spots (which is challenging at the best of times with any child, add sensory issues in and it's that little bit harder) but we survived! He's happy (and so I am) that he's on the mend and back at school. There's only so much Dinosaur Train we could cope with! Trying to juggle work and from home was a little stressful but we figured it out!
We did manage a dinner out at our French restaurant for our 15th wedding anniversary, it was amazing, if a little short, because we didn't want to leave our babysitter with spotty child for too long.
Said spotty boy, and mummy trying to juggle working from home.
I was very lucky to go to the launch event for the new No7 serum, I've been trying it out and have been extremely impressed.
No, that microphone, not for me to use to make my voice louder to get us out the door in time for school (although tempting!) it's for our toddler music group, but it's take ages to arrive so I was excited to open and try it!
Coffee and almond cake? It was good!
Grumpycat will sleep on human pillows and doesn't care that the humans want to go to bed.
My big girl with her cat. Kitty love. (She was supposed to be getting ready for school, I caught her kitty cuddling whilst reading her book, she's just like her mother!)
So that was our week, how was yours?