We generally don't eat breakfast cereal in our house. I'm not keen on many brands of cereal because I find they are loaded with sugar and other stuff. My kids think it's a HUGE treat when I buy a box of cereal for them and it's rare for me to let them have it.
So, when we were asked to try Bear Alphabites, breakfast cereal, the kids were delighted and I was very pleasantly surprised and happy to let them have it because whilst it's a coco based cereal, it's got less than half the amount of sugar per bowl than other cereals. Sugar consumption is a huge issue, these days and like most parents, I want to let my kids have treats but I'm conscious of the amount of sugar they have in their diet. So it's a great alternative when they are eating cereal. I even had a bowl myself and enjoyed it. It contains no refined sugar, they are multi-grain and also is naturally high in calcium, and which is helpful for growing kids and their bones.
What are Alphabites?
Delicious crunchy letters made from tasty wholegrains.
What's inside?
5 tasty multigrains high in fibre, with no added nonsense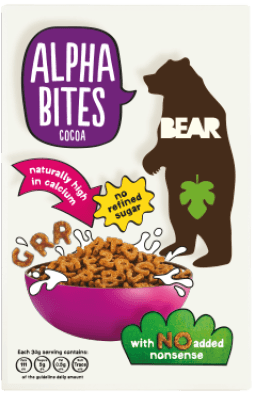 The kids love it because it's chocolately (but not too sweet) and they like finding the letters and making up words, and I like it because it's not too sugary so I feel comfortable letting them have it as part of a balanced diet.
So, if like me, you want to give your kids cereal but find most too sugary, this is perfect.
We definitely recommend it! Bear say it's a "no nonsense cereal" and we agree. Definitely mum approved!
*We were kindly sent some products to try, but all words are our own, or used with permission*