My childhood journey to school was very different from the one I take now with my children every day. I lived abroad for some of the time, so getting to school was not always typical to what children do here in the UK. However I did have some periods of time when we walked to school, here in England, and I remember my mum walking with us, to drop us at school and collect us. It was a pretty long time ago (ahem, I won't say how long but I am nearly 40 so you can probably imagine) and we had a lollipop lady on the road outside school who would help us cross safely, and whilst I think the road was busy, I do remember there being less cars and more people walking. I used to enjoy our walks to school, and I don't remember feeling worried about crossing roads, although my mum was very strict about drilling into us, to watch for cars, stop and look and cross carefully.
Today, with my own children our school run in the morning is a walk of approximately 5-7 minutes (depending on how fast my children walk) along an road, in a suburban area of South West London. We've lived here for almost 11 years, and when we moved here it was very quiet and had much less traffic than it does now.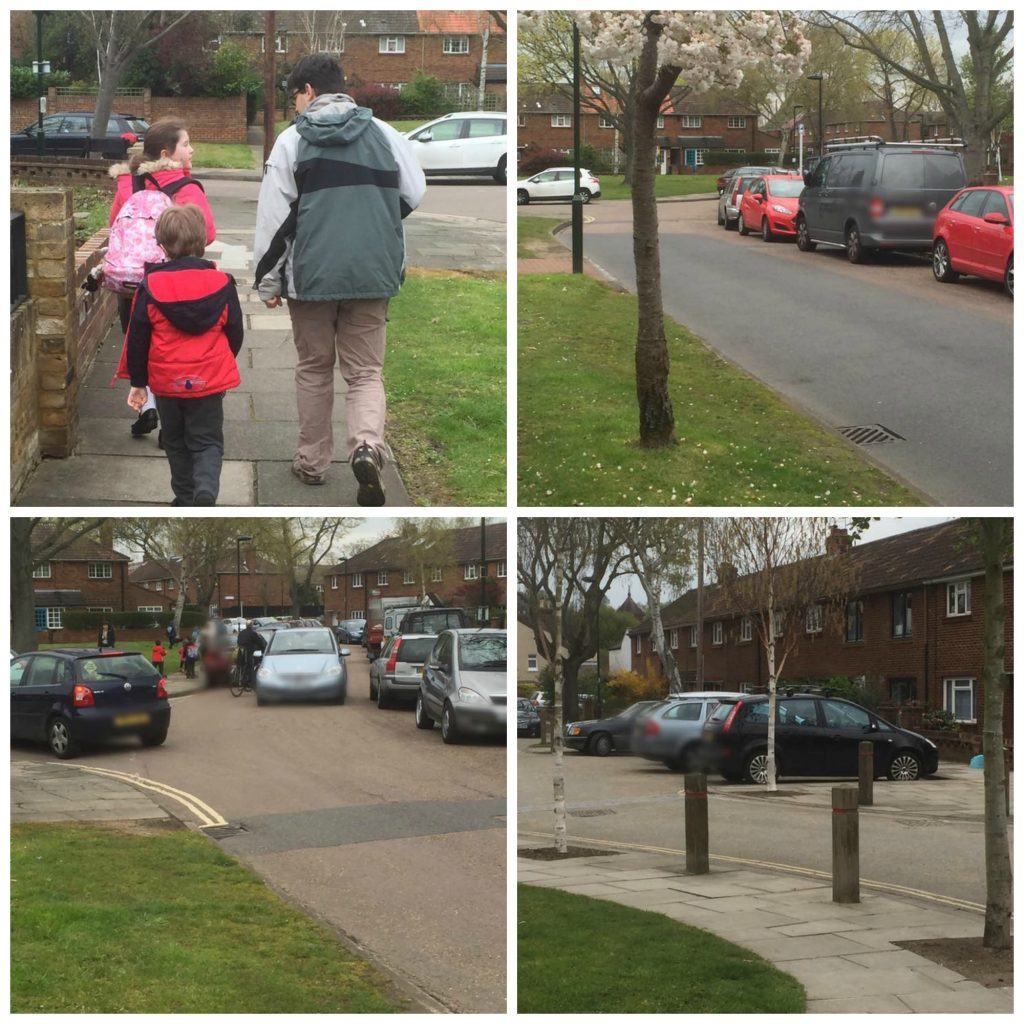 The walk up to school, you can see how busy the road is, even though we are a "quiet" suburban street.
We have two schools next to each other at the junction where one road joins another, at the end of our street. Whilst it is a suburban street, there are lots of cars, with families dropping children at school, people leaving for work, and people parking their cars to then commute into Central London.
I'm usually very aware of the traffic as we walk up our road, and I'm constantly reminding the children to stop, look and listen to make sure it's safe to cross. They're pretty good now, but it's taken a lot of work (ie me sounding like an army Sargent) to get them to realise that just because the road looks quiet that a car or van could appear round the corner at speed. Unfortunately, although our road does have speed limits, not everyone sticks to that.
When we reach the top of the road, it's a bit of a minefield. Because of the shape of the road, and cars parked right up to the corner, it's often almost impossible to see what's coming down the road before you cross to get to school. Cars and vans often come up the road and don't wait or slow down for pedestrians crossing and there is no official marked crossing area so it's basically a question of an adult stepping into the road to make sure it's clear and safe to cross and often having to stand there so oncoming traffic can see to slow down and stop. During school drop off and pick up this is the worst and most unsafe time. There is an almost constant flow of traffic, and families trying to cross. If you add a car or two pulling up to stop and drop a child, then reversing in to join the traffic, it adds to the chaos. I have to admit it's quite stressful, and I constantly have the thought in the back of my mind that one day a child will be hit and either badly hurt or killed and I don't think I will ever feel confident enough to let my children walk themselves to school when they are old enough to, simply because I don't believe the road outside our school is safe. We are lulled into a false sense of security because "it's suburbia, the roads aren't as busy as a road near a city school" but I think that's actually worse, because drivers and pedestrians are less proactive about safety.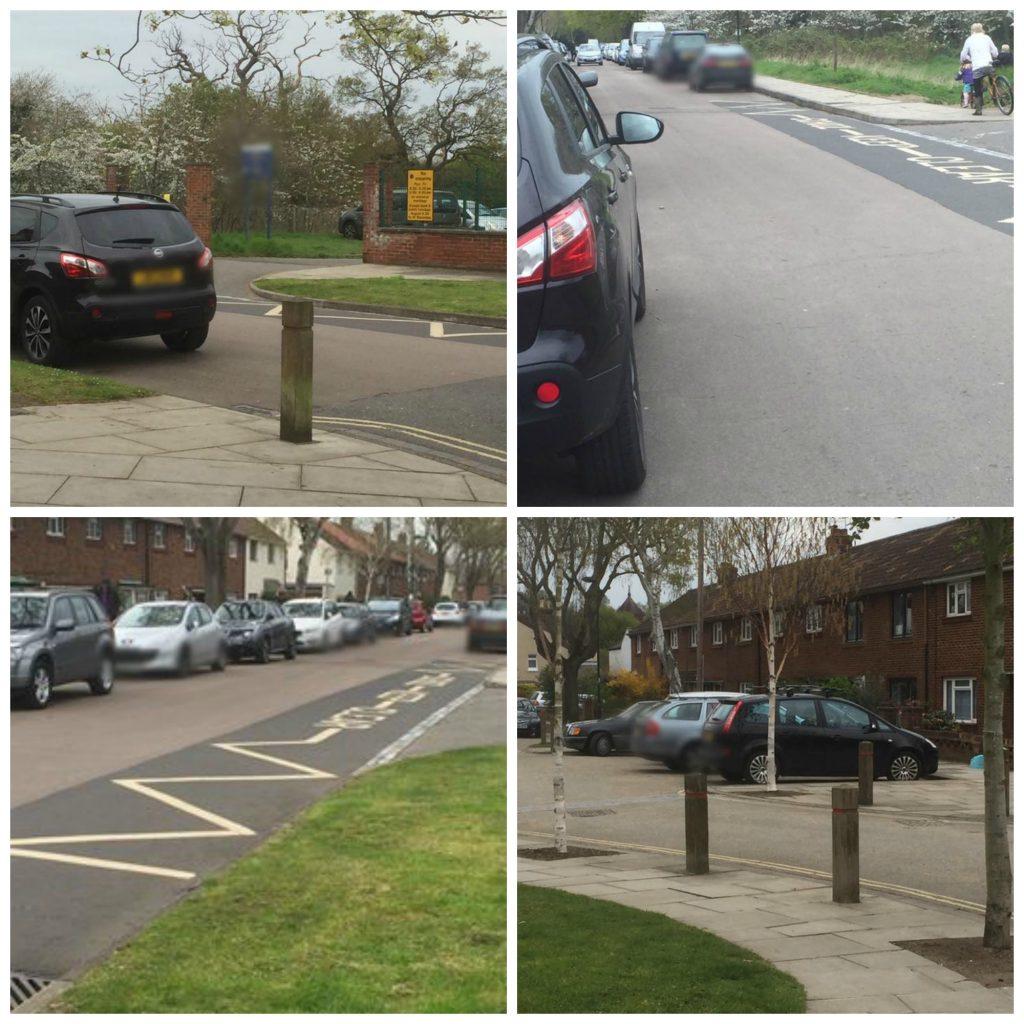 Having to step out into the road to see what cars are coming, to make sure it is safe for us to cross.
So I am nominating our school, as part of the
Churchhill Lollipoper fund
, to get us a Lollipop person, who can help keep the roads and crossing to our school safer, for the families trying to get to school each day. I think it's important that we raise awareness and try and make the walk to school much safer.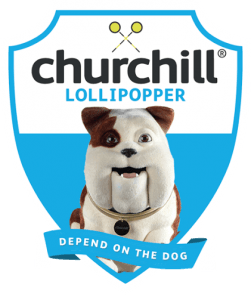 The Churchill Lollipopper Fund
What is it?
There are thankfully more than 20,000 lollipop men and women who help keep our kids safe across Great Britain.
However, the number of these amazing 'Lollipoppers' on our roads is beginning to dwindle, with Churchill Insurance's research (see below) showing that nearly a third of parents are aware of a Lollipopper being removed from their local area with no suitable replacement.
Churchill want to help redress the balance and make this safeguard around our nation's schools stronger than ever by giving funding to 50 schools to have their own Lollipopper.
Did you know that?
95 per cent of parents and 88 per cent of children (aged 5 – 11) feel safer knowing there is a Lollipopper present on their route to school
91 per cent of parents see a Lollipopper as being safer than a zebra or pedestrian crossing
Following UK legislation in 2000 stating that lollipoppers were no longer a legal requirement for schools, an increasing number of the iconic lollipop men and women have been taken off the road in recent years. One-third (32 per cent) of parents went on to reveal that a lollipopper had recently been removed from their local area with a further 61 per cent stating no crossing alternative had been put in place.
If you think your school needs a Lollipop person to help keep the roads and crossings near your school you can nominate your school
here
, too.
*I am a member of the Mumsnet Bloggers Research Panel, a group of parent bloggers who have volunteered to review products, services, events and brands for Mumsnet. I have editorial control and retain full editorial integrity*
Images that are not my own are used with permission.