My Scottish grandmother, known as Nana to us all, used to make a lentil soup that we all loved. On weekends when I was home from school (boarding, I used to spend time at her home when I couldn't go to where my parents were) it was my favorite thing to arrive at her house, to the smell of a pot of lentil soup bubbling away on the stove. She never shared a recipe with me, in fact I am not sure she used an actual recipe, but I do know it involved a ham bone and lots of vegetables and of course lentils.
I love lentils, they are healthy, are a great source of fiber and vitamins, they are not expensive and they are easy to cook with. My children love anything with lentils in it, so it's great that I can use them for family meals.
So, I decided to try and imitate my Nana's lentil soup, using my slow cooker. I am pretty sure she would tell me what I make is not genuine, like hers but I reckon she would think it tastes pretty good. It's perfect as a winter warmer, it's filling and comforting, and it's a meal I can basically pop in the slow cooker to get on with itself, and come home to. I don't use a ham bone, because it's actually almost impossible to find that in the supermarket or shops. I occasionally have managed to source one, from the butcher counter at the supermarket but only by chance. I use a piece of smoked gammon, I like the flavour that the smoked joint has, but you can use unsmoked, if you prefer. You don't have to add any salt to the recipe either, because the gammon is salted. I also use a cup of cider, which I am pretty sure my Nana would not have approved of, but it really works, I promise.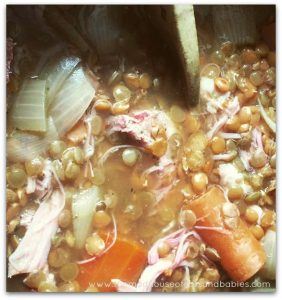 For my version you will need:
One gammon joint. Either smoked or unsmoked, depending on your preference. I buy one approximately 700g in weight.
400mls of cider
1 litre of good quality vegetable or meat stock. I sometimes make my own, or I use a low salt stock cube in water (you don't need the extra salt)
One large onion roughly chopped.
Two carrots, peeled and roughly chopped into chunks
Two cloves of garlic, peeled and chopped.
250g of green lentils (you can use red or black, but I like the taste and texture of the green)
herbs – this is a personal thing. I use a combination of dried herbs I bought in France last year (I stocked up, you can't get the brand here) but a pinch of dried oregano and rosemary are perfect for this.
Worcester sauce, 1 tablespoon
Now make your slow cooker do the work:
Put the chopped vegetables into your slow cooker or crock pot. Place the gammon joint on top then pour the cider and half the stock over the meat. Add your pinch of herbs and the Worcester sauce. Start cooking on high for one hour.
After an hour, you can turn down the cooker to medium and then cook for two more hours.
The meat will start to soften and cook.
After two hours, add your lentils and the rest of your stock. Stir, then turn to low, and cook for a further two hours. You can stir it, if needed, and you may need to top up with a little water if the lentils are drying out, to keep the soup consistency. You want the lentils to still keep their form and not be too mushy.
You need to break the meat up so it mixes into the soup and everyone gets some, before you serve it. It works well with crusty bread and can be frozen and re heated. It's a perfect meal and is gluten free so too. It serves 4-6 people as a main meal.
I think my Nana would approve, I know my family do…
(and the slow cooker does most of the work for me, when I walk in the door, from collecting the children from school and smell the soup, almost ready to be eaten, I feel almost like I am coming home to my Nana's house. Excuse me whilst I have a sentimental moment, now…)