Bean Boozled
Now, you may have heard of the Bean Boozled challenge but have you actually done one? We have… last week the Reekie family did the bean boozled challenge and it was not a very delicious experience. The Bean boozled flavours are… Stinky socks/ Tuti – Frutti, Lawn clippings / Lime, Vomit/ Peach, Canned dog food/ Chocolate pudding, Booger / Juicy pear, Rotten egg / Buttered popcorn, Tooth paste/ Berry blue, Baby wipes/ Coconut. This may not inspire you to have a go but … WE DARE YOU!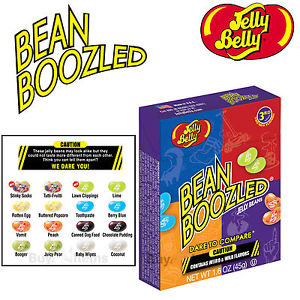 On the day I did it I was not expecting the absolute horrible flavours that it contained. I will never be doing a bean boozled challenge again because I got all the most horrid flavours, also with me was my dad who had got most of the nice flavours and I think he was quite lucky, in fact, I reckon he might have slipped me all the yucky ones when I wasn't looking. While this was all happening my mum was videoing the whole thing and was laughing so much the phone was shaking. She said she preferred to be behind the camera and not actually eating beans.
You can watch our video below.
Now, you know you want to have a go yourself, don't you. Well if we can, then you can…!