So, my babies aren't really babies any more, and although we would like to add another baby to our family, right now I don't use highchairs or all the things that come with a small baby when they start to wean and sit at the table for meals. Occasionally I see a product that makes me say "oh, I wish that had been around when my kids were babies" and today I am sharing one with you.
This is the Baby Grippum mat. Something that I would happily used when my children were babies.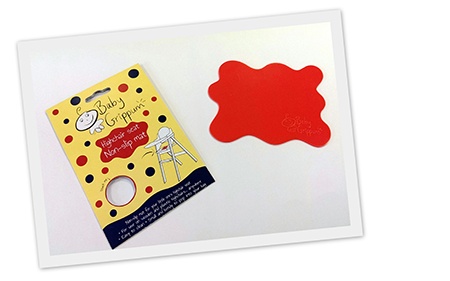 What is it? You ask…
It's a handy little mat that you slip onto the seat of any highchair you are using, to stop your little one slipping and sliding around. It helps them to sit and it "grips" so they can't slip and slide whilst they are sitting in the seat, eating, or playing. I know when I was out and about with my kids and needed to use a highchair, in a cafe, or restaurant or even at a friends house, sometimes they would be too big, or my babies would slip and slide around in them, and everyone knows that babies can be wriggly too, so keeping them safe and preventing them from sliding around in a high chair isn't a bad idea. Baby Grippum is perfect for that. It's small, easy to pop in a nappy bag or handbag, it wipes clean easily and it's tough and durable. I asked a friend of mine with a small baby to try it in one of the basic high chairs we use at our toddler groups and it worked really well, she was very impressed with it.
Another reason I love it is because it was created by mums, trying to solve a problem they had, so it's made for mums (and dads, and carers) by mums.
"The practical problem we faced was when the girls were using high chairs. Because babies have a high centre of gravity (i.e. a rather large head) they struggle to sit upright and stay upright. As a result they slide down in their high chairs. No amount of packing the front and back of the highchairs with cushions or blankets made any difference…just created a lot more washing! Coffee and cake and mealtimes became problematic and stressful for us adults as well as the small people!
This is when we had an idea….a non slip highchair mat. A simple idea of a non slip mat that is placed on the high chair under babies bottom to stop then slipping and sliding. We thought there must be one on the market so we started to look. To our surprise there was nothing…only many other parents complaining about the same problem.
Some time later we saw an advert on Facebook from Boots asking Mums if they had ideas for new baby products. We did! We submitted the form and to our amazement we were invited by Boots to present to their Baby Buying Team. They loved it and so our journey as Mumpreneurs started and Baby Grippum was born…..The very grippy non-slip, portable mat for your child's high chair"
It's a brilliant idea and works really well. I am definitely adding it to my list of things I will buy if we do have another baby and it will make a perfect baby shower gift from one mum who has "been there done that" to someone starting out on the baby voyage.
I am delighted to say that I also have a Baby Grippum mat to giveaway to one blog reader.
If you would like to enter to be in with a chance to win it, all you have to do is tell me in the comments about something you found you couldn't manage without, when your babies were small, or something you use now that is invaluable, or something you would like to see invented to help, then click on the Rafflecopter link below and follow the instructions.
Terms & Conditions:
Open to both UK and international entrants.
Winner will be notified by e-mail to arrange postage of prize
No cash prize alternative
Participants must complete all entry requirements
Giveway will end on June 22nd.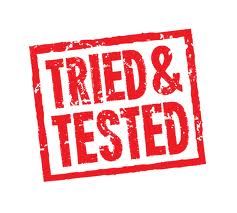 *We were very kindly sent a Baby Grippum mat to review*