I have successfully lost a fair amount of weight over the past 18 months (ahem, 51lb to be exact, that's pretty much a small human in weight, when I think about it) with a combination of exercise, portion control, reducing the amount of sugar and processed carbs in my diet. Recently though, I kind of reached a plateau and have not been as pro active in sensible eating, and also being restricted in my exercise regime due to more knee issues.
So when the team at SML diet asked me if I would like to try out their system, I jumped at the chance (OK, I wriggled about a bit excitedly, I can't actually jump at the moment, my knee hurts too much!!) I saw it as the chance to kick start better eating, and hopefully a bit of weight loss too.


I have tried some meal replacement plans in the past, a long time ago, and frankly they were pretty awful, so was a little nervous about what the products would taste like but was excited when my package arrived for my week of eating on their plan.
They have two plans that you work your eating around. The Simple Plan is where you use all of their products as meal replacements and you can add vegetables from a prescribed list, and The Social Plan where you use their products for meals and snacks but add meal of your own, based on their list of foods that are acceptable within the plan, with protein and vegetable options.
I opted for the social plan, because it meant I could also plan meals for my family using the foods I was allowed, whilst sticking to my own plan. So for eample, I could plan a day around the meal replacements then make a simple supper of chicken and allowed vegetables for myself, and the family, adding extra to the meal for them, as they needed.
My main problem with food is portion control. I love to eat and can, admittedly, eat a lot if I want to. But, for me, little and often and portion control seems to be the medium most happy for me in terms of still being able to enjoy food, but also keep my body at a weight that is healthy for me and I have gotten lazy about it, recently.
The SML diet is a LCD or Low Calorie Diet, "On a LCD, slimmers consume between 800-1000 calories per day. Due to the low amount of carbohydrate you will be consuming your body will enter a process called Ketosis. This helps your body burn your fat quickly and efficiently which then allows you safe, sustainable, rapid weight loss".
It's a safe and effective way to loose weight, as long as you are careful to stick to the plan and it's instructions and also don't have any health issues that could be affected by a LCD. For me, it's a perfect way to kick start me into weight loss, off the plateau I have been stuck on.
The plan and instructions are very comprehensive and easy to follow. The meals, snacks, shakes and bars are all ready made and you don't need to add anything to them other than water to the meals and shakes. If you are following the social plan like I did, you do need to shop and buy vegetables and lean protein but the list you are given of those is easy to manage and shop around.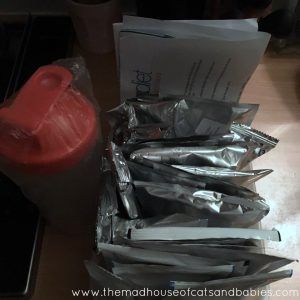 My replacement meals for the week. It doesn't look like "a lot" and you may think "how will I cope with not that much" but actually the meals, shakes and bars are very filling"
The thing about this meal plan regime (as with any other) is you have to stick to the plan and follow the guidelines. It's tempting to cheat and to try and deviate. I was told (by one of the lovely advisers) that the first few days, particularly day 3 would feel hard, as my body adjusted to a low carbohydrate system, and they were right. Day 3 was very tough. I wanted to eat ALL THE CAKE and ALL THE CHIPS but somehow I managed to get through and I actually did 8 days, before I finished the trial. At first I was a bit freaked out by the portion sizes of the meals because they are a bit smaller than I am used to, but actually I found them surprisingly filling and although in the first few days I did feel very hungry, that eased as my body got used to things and I started to cope better.
So every day, I would have a meal replacement shake for breakfast usually on the way to work, using their special shaker with blending ball, then one of their snack bars mid morning, then a meal from their meal replacement section and then a dinner of lean protein from the prescribed list, and also vegetables from their list. I stuck strictly to the rules on water consumption, as well. I was allowed a set amount of skimmed milk per day, so thankfully was able to have my usual coffee fix, which also helped a lot to keep me going.

A typical day. Shake for breakfast, usually on the way to work, a snack bar mid morning, a meal replacement (spag bol, which is yummy) and then a simple dinner, of lean protein and veg (chicken with herbs and asparagus, no oils or fats used) and the recommended amount of water, plus two coffees with the amount of skimmed milk I was allowed.
I have to say, I was incredibly impressed by the shakes. I have tried meal replacement shakes before (shudder) and they were chalky and often not very nice tasting, with nasty aftertastes. Some of them can also be very faffy to prepare. The SML Diet shakes are easy and taste pretty good. I chose a variety of flavors, but my favorites were the minty chocolate and coconut. They are easy to prepare, in the special drink bottle that comes with the plan and aren't clumpy or chalky. Even though you make them up with water, they are creamy and filling.
The meals are surprisingly filling and tasty too. You do look at the packets and think "that's not a lot, I AM HUNGRY" but actually if you make them properly according to the instructions, they are nice and filling. My colleagues even commented that they smelled good and looked pretty good too. There are a variety to choose from, from risotto to pastas, to chili, and I tried one of each and enjoyed them all. They don't do very well if you make them up and then transport them, so you do need to work around that a bit, that's the one thing I learned from my week.
The snack bars are a lovely boost in the day, filling and yummy, and just what you need when you think you might want something sweet and want to cave to the temptation of cake or biscuits.
There are soups and other options available to use too.
The costs of the plans are reasonable, and easy to budget for, especially when you are trying to feed your family as well. I know sometimes, meal replacement plans can be very pricey, but SML is good value.
The plan comes with full instructions on how to make up the meals, how much water to consume, advice on how the diet works, and health issues you may need to consider before attempting the plan, and also some things to watch out for, that might be side effects of the plan, so you have all the information you need. The website is also comprehensive and helpful, and I tweeted them a couple of times with questions and they got back to me quickly and were helpful.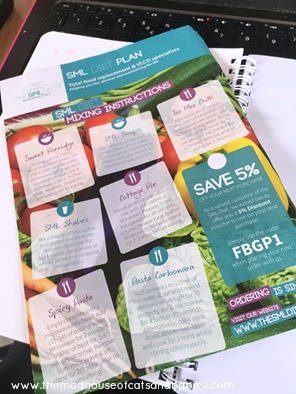 Instructions on how to make up the meal replacement packs. LSH did comment on how they looked like something you might take on a space shuttle mission, when I showed him the packs to be made up. I found it easy to take the packets to work and make them up at lunch when I needed.
Now, the big question. After a week of the meal plans, did I loose any weight? I know you want to know, if it was worth it?
Well, lets just say that when I stepped on the scale and found I had lost 5lb and 3oz after a full week of the SML diet plan, I was very impressed. It was definitely worth it. I am IMPRESSED and would recommend it. It's not easy for the first few days as your body adjusts, but it is worth sticking to the plan and following through.
I would definitely say that if you want to kick start your weight loss like me, or you need to start a plan that is simple and easy to work, and fits into your life, but also isn't going to make you miserable because you haven't got anything inspiring to eat, then you should try the SML Diet Plan. It's a very effective plan to help with weight loss.
I will be continuing to use the meal replacement shakes and bars with the occasional meal, as part of my ongoing diet plan, because they are easy to use and taste good and mean I can plan my meals and eating, whilst working towards my target weight loss goal.
We have a special offer for our readers too. If you use the code BLOGGER when you order any products, you will get 10% off your order. That's another reason you might want to try it! 😉
Disclaimer: I was sent products to try in exchange for reviewing them. All words and opinions are my own and I was not paid for this review. Before you embark on any weight loss programme you should seek medical advice. If you are going to try the SML diet plan you need to follow the instructions and plan carefully.