We are movie fans in this house, we love a good one and Kung Fu Panda happens to be one of our firm favorites. There's something about that panda & his adventures that endears to both adults and kids. We were very lucky to be invited along to Dreamworks Shrek's Adventure! in London to watch the movie.
I haven't actually been to something like the Shrek's Adventure experience since I was a teenager (so A LONG TIME AGO, ahem!) and it was the children's first time trying out something like that. It was an incredibly fun time. It's a mix of hilarity and adrenaline as you figure out a mystery with familiar characters from the movies to help you. The children thoroughly enjoyed it and so did the adults. It's a fantastic mix of live action with clever use of animation and characters that's fun for the whole family and it's definitely something enjoyable to do, and being big fans of Shrek, helped although I don't think you have to have watched the movie to get into the action. Apparently you can have a birthday party there, pity I didn't know about that before my most recent birthday, it would have been a perfect way to celebrate.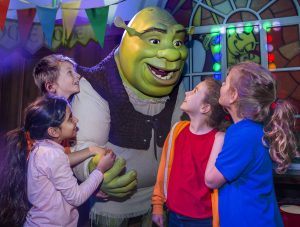 We also loved watching Kung Fu Panda 3 continuing the adventures of the lovable, slightly clumsy, noodle loving Po.
"After reuniting with his long-lost father, Po travels to a secret village and meets tons of hilarious new panda friends and family members. But when the supernatural villain Kai challenges all the Kung Fu masters across China, Po must discover the teacher within himself and train his clumsy brethren to become the ultimate band of Kung Fu Pandas!"
It's the perfect family movie, with fun, adventure, a little bit of emotion and excitement all rolled into one. Po is funny but faces challenges as life as he knows it changes for him and he finds new family and friends but struggles to prove himself. Sometimes with sequels to movies you can come away feeling a bit disappointed if the movie isn't as good as the first one, but Kung Fu Panda 3 , most certainly didn't. We laughed, we cheered and I even got a bit teary at the end. It's one we will watch again and that's perfect for the kids to watch, that adults can enjoy too.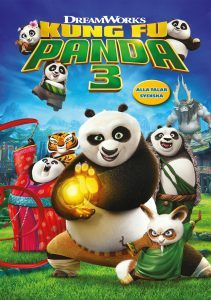 DreamWorks Animation's KUNG FU PANDA 3 is out on Digital HD on 4th July and on Blu-ray™ and DVD on 11thJuly just in time for if you need it for the long school summer holidays ahead! 😉
"Kick off the summer holidays with the KUNG FU PANDA 3 Awesome Edition on Blu-ray™, DVD and Digital HD. Featuring more fun, funny and action packed bonus features including 2 all-new Kung Fu Panda animated shorts, Everybody Loves A Panda Party Karaoke with Po, Make a Panda Party Paper Pal and more!"
I am a member of the Mumsnet Bloggers Panel, a group of parent bloggers who have volunteered to review products, services, events and brands for Mumsnet. I was invited to attend an event. I have editorial control and retain full editorial integrity.