Summer holidays are almost upon us… (if your children are already on holiday, just nod smugly and agree, some of us have another week or so to drag ourselves through 😉 )
You may have plans to go away somewhere nice to try and get more sunshine that seems to be available in the UK at the moment (seriously, what is UP with the weather? Who switched off the sunshine? Are we doomed to spend a summer in rain coats and wellies?) or you might have plans to stay local and relax.
We are very lucky to be going away for a break, at the end of term, and frankly I cannot wait and neither can the children. I am slowly packing our bags and planning what we need to take, but mostly making lists and will probably frantically pack everything at the last minute whilst falling out with LSH who is MUCH more organised than I am.
When we go on holiday I like to pack minimally, and to take multi functional products, where possible. So, for example a shampoo we can all use, instead of one for the kids, one for me, one for the husband, and body lotion and other things that we can all use. It saves space and it's convenient. I want something that smells nice, but is kind to skin that the children won't protest at using either.
So, when this lovely gift set landed on my desk, from Neal's Yard, I was delighted. It's perfect for going away.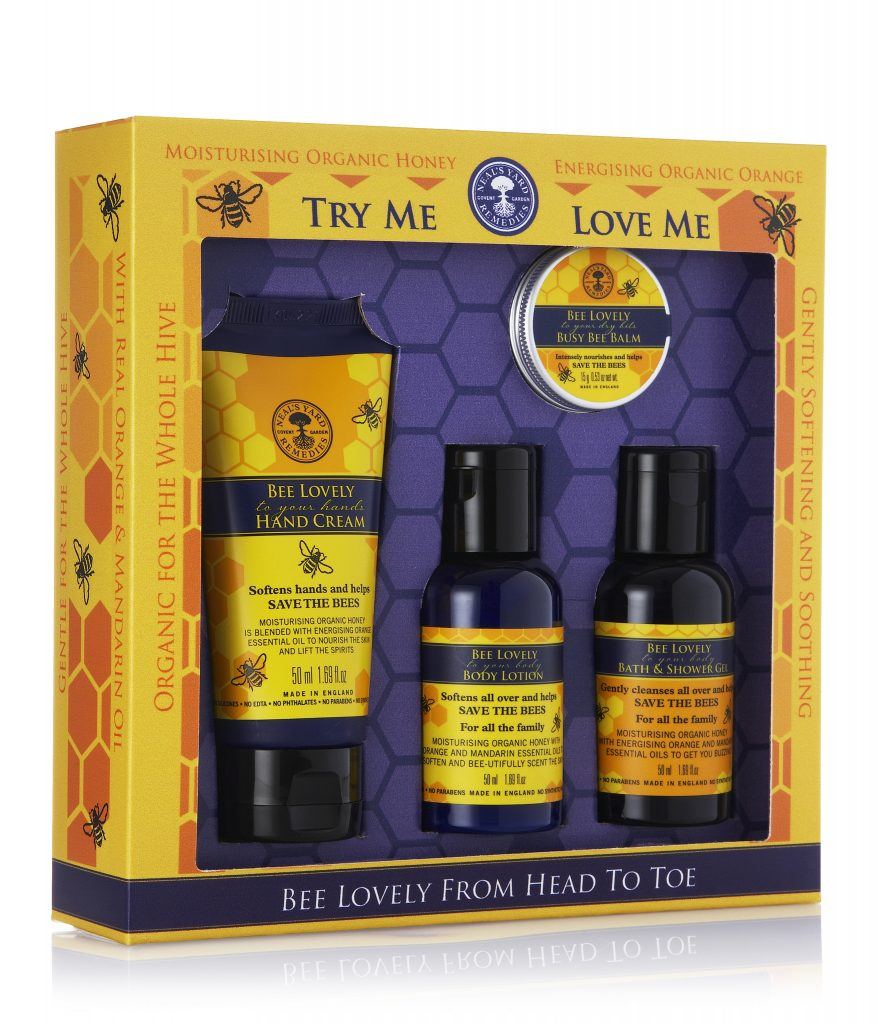 I love their products and have to say have been very impressed with this little set. It's the perfect way to test out their Bee Lovely range, and it works for holidays and for your gym bag too.
What they have to say:
Bee-utifully scented organic body care
Gently cleanse, soften and bee-utifully fragrance with pure organic honey and uplifting natural essential oils of orange and mandarin. Gentle enough for the whole hive, including children aged 3 years and over.
It contains:
Bee Lovely Bath & Shower Gel 50ml
Bee Lovely Body Lotion 50ml
Bee lovely Hand Cream 50ml
Bee Lovely Busy Bee Balm 15g
Choose organic and help save the bees
Organic honey is made by bees that collect nectar from plants free from nasty neonic pesticides and crops sprayed with deadly nerve agents. Theyre the lucky bees that can roam and flourish as nature intended. Every time you choose organic honey, youre helping to save the bees.
Since 2011 we have donated over £70,000 to bee-friendly causes through our award winning 'Bee Lovely and Help Save the Bees' Campaign. (this makes me happy, because I am very keen to help protect our bees!)
The products smell divine and are gentle on skin and can be used by adults and children (aged 3 and over) alike. Just what I need to pop in my suitcase…
We are delighted to offer one reader a Bee Lovely Gift Box too…
If you would like to be in with the chance to win one, you can enter by telling us in the comments what one essential thing you always take on holiday that is convenient or makes things easier, or that you just can't do without, and click on the Rafflcopter link to complete your entry.
Terms & Conditions
UK Entrants only
No Cash alternative.
Winner will be notified by e mail
Any spam entrants will be disqualified
Ends 9th August 2016
*We were kindly sent some products to try out*