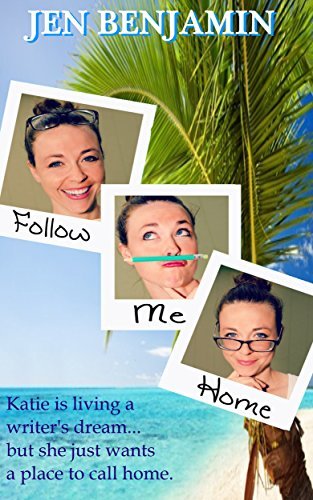 I have been trying to take advantage of "some" peace and quiet whilst being on holiday, recovering from knee surgery and having to work (slightly) less, to catch up on some reading. It's nice to be able to sit down with a book and actually relax. Doesn't happen terribly often, but I do try, if the children will let me 😉
This is one from my summer reading list and is a perfect, lighthearted but keeps you reading story of Katie and how she finds success and love in a surprising way…
Follow Me Home, by Jen Benjamin!
"When writer Katie Kendall moves to LA to turn her best-selling novel into a film, she is pretty sure it should be the happiest time of her life. But with an unsupportive husband who suddenly files for divorce, the paparazzi assuming she's having a fling with the leading actor, and her friends left miles away in her old hometown, she begins to think she's made a big mistake."
I normally stick to crime and rather gritty novels, so this one is a bit of a change for me, and I have to say I thoroughly enjoyed it, despite it being different from my usual read. The heroine is not your usual glam superwoman with life all together, she's a more normal, average, thirty something, which appealed to me, because it's much more realistic, and despite some challenges as she learns to live a new, rather glamorous lifestyle you can relate to how her struggles and triumphs. All the way through you aren't sure entirely if things will come right for her, but you hope they do, because she's likable and you want her to succeed and get her love life sorted too!
It's a fun book, that is perfect for sitting in the sunshine to enjoy, or hiding from the children in the bath, with the door locked and a glass of wine (when the husband gets home, of course!) It's funny and romantic and enjoyable and if you are looking for something to add to your summer reading list, I would add it, because you might just like it!