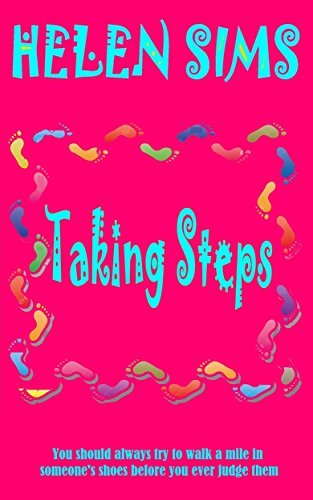 Taking Steps – Helen Sims
I have been able to read a few books over the summer holidays (thank you children, for allowing your mother some peace and quiet) and this one was one I particularly enjoyed. It's a compilation of stories, thoughts and poetry by Helen Sims.
"Helen Sims was born in November 1981. She has had Cerebral Palsy since birth, and cannot walk or stand unaided. Age 14, she had major orthopaedic operations, spending almost four months in hospital, (100 miles from home), and had to learn to walk from scratch. The surgeries were the start of a battle with clinical depression. Helen is a passionate and outspoken campaigner for disability rights. She has been trying to raise awareness of the realities of life with a disability, hoping she can help people understand better, since she was eight years old. She loves to write, and has been a member of her local Writer's Circle, the 'Somerscribes', for over 20 years. She is determined to turn everything bad that has happened to her into something positive, something which she hopes will help others."
Again, this is not entirely my usual reading material, but it sounded really intriguing and interesting and I do like reading books about people's life experiences so it did appeal to me. It's very honest, raw in parts, because the author has had to fight hard physically and mentally and face challenges that most of us don't have any experience of. She clearly is a very brave person, who is very honest about how she feels and about how she deals with life, and expresses herself through her writing.
I found myself laughing, then crying, then cheering her on. It's a very honest but also compelling book, and the realities she faces and faced are brought home to you as you read. If you are looking for something a bit different to read this summer, I would definitely recommended it. Tissues and chocolate are optional! 😉