We are always looking for fun kids books to read, both children are voracious readers and we encourage this habit.
Emily has recently been reading How to Update Your Parents, by Pete Johnson.
What can you do when you're trapped in a technology time warp? When Louis's parents decide he spends too much time 'glued to screens' they come up with their worst idea ever – a total ban on tablets, computers and mobiles! Louis needs a plan to fight back, and fast! Can his best friend Maddy come to the rescue?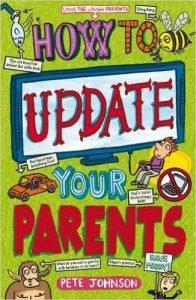 Here she is to tell you a bit about it.
"How to update your parents is about a boy called Louis who has a happy normal life until his parents decide to do a total ban of technology and the whole family goes back to the 1980s. This is a bit of a problem because everybody uses technology every day to communicate and to make matters worse Louis learns that his girlfriend Maddy is moving abroad. How will they keep in touch? Writing letters is way too slow and it's very old-fashioned. The book tells you all about how Louis tries to solve this problem and get his parents back into life with technology…
I like the book because Louis makes me laugh and he is very good at telling jokes.
I would recommend you ask your parents to buy you this book now because it's a very funny and enjoyable book.
One thing I don't like about this book is that it gives my parents ideas for removing technology time in my house and for me and my brother's sake I do hope that our parents know better not to do that to us…!"
This is the first time we have read anything by Pete Johnson and I have to say both adults and child really enjoyed it. I had to prize it off Emily because she thought I might get some ideas about cutting off the technology in the house 😉
He writes very well and the book is very funny, descriptive but perfect for kids.
Emily gives it the thumbs up, and so do we, now we need to discuss a holiday from technology, maybe I will get her one of his other books, to read instead…