We were lucky enough to be able to go on holiday to France, this summer. It's a long drive to where we stay, but it's worth it, and we love our time away.
It takes a lot of planning to get away on holiday with a family, especially when you are in a car, and need to make sure you have everything you need, practically, to survive the journey, and also in case of an emergency. Things like making sure your car is ready and safe to take on a long journey, that you have all your important documents, particularly those you don't normally carry around with you but might need if asked for when travelling abroad in the car, and also making sure things like your car insurance details are all sorted all need to be done before you leave.
One thing we know to plan for when we are on holiday with the children is keeping them busy on the long car journey there and back.
Things like tablet devices and MP3 players are handy, to help occupy them, but there are also other things you do that are fun for everyone in the car, mostly 😉
The children were delighted when a rather special parcel arrived for them, with a whole host of things to keep them busy in the car on our long trip. It's nice to have a selection of things they don't normally play with, which keeps things interesting and helps to  ward off the "I'm bored, are we there yet?" cries, a bit.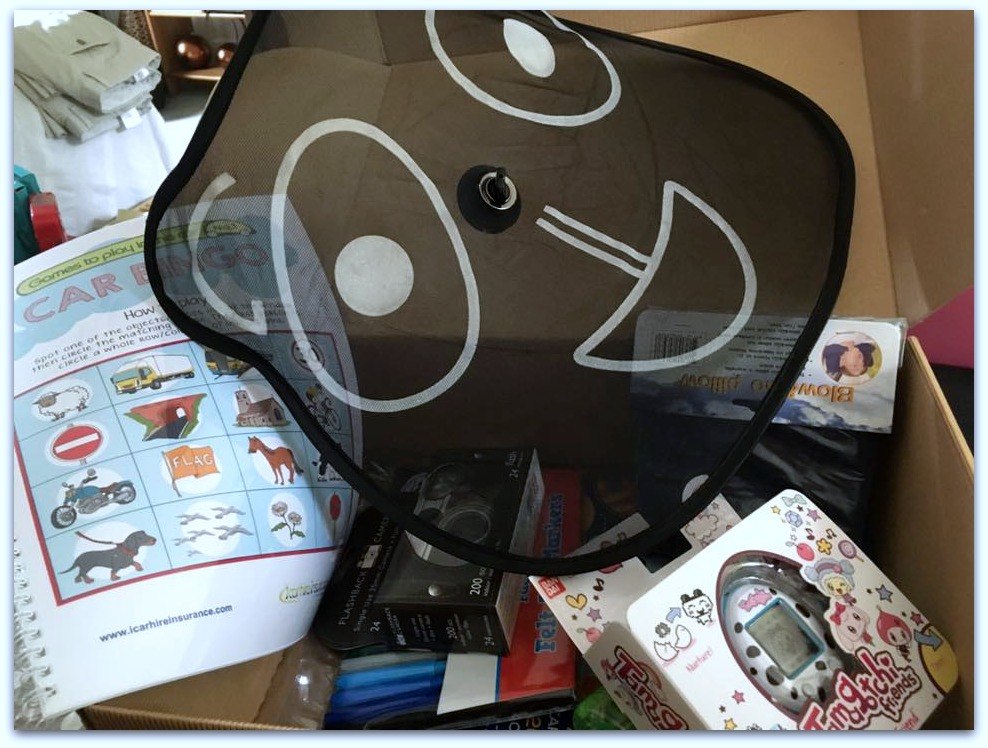 It's also fun to give them things that can give them a bit of independence and a small sense of responsibility.
Yes, that's a Tamogotchi toy, and I feel a bit old. It was fun for the kids to try and keep it alive and functioning whilst in the car, although I did get handed it when they wanted to sleep "don't let it die mum" 😉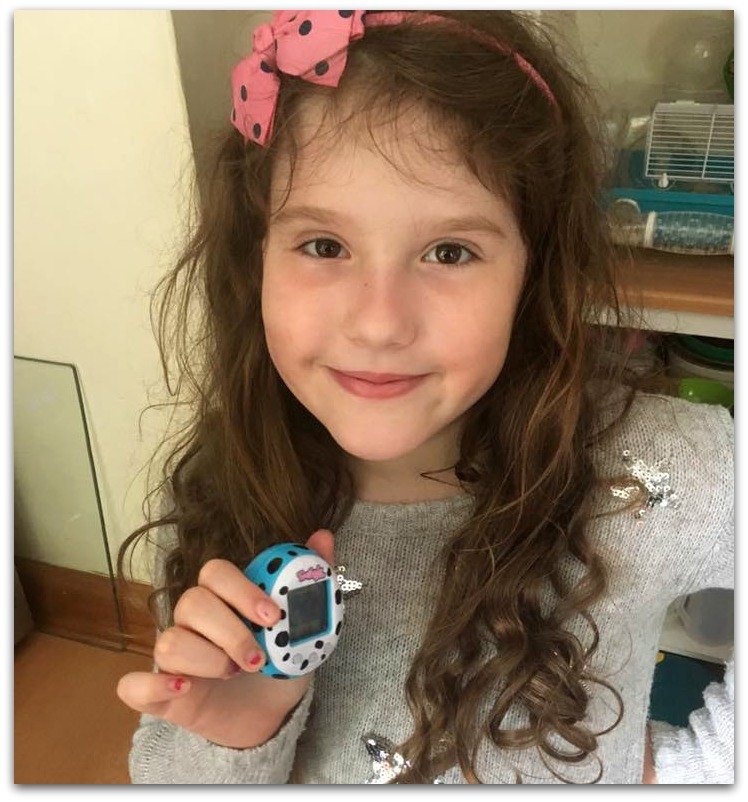 Things like car bingo, which was hilarious and involved the whole family, kept us going when the traffic ground to a halt outside cities where EVERYONE has decided to leave for their holiday at the same time (and it stopped the husband from muttering "I KNEW we should have left at 4am not 5am!" too many times!) and also colouring and sticker books are brilliant and unmessy ways to keep little minds and hands busy when you are stuck in the car, and not going very far fast. (note to anyone reading this, travelling via Paris on a French bank holiday weekend is best avoided if at all possible, we do these things and share them with you so you don't have to do them too..)
Fun, and not too messy, unless you count having stickers stuck in your hair, which apparently is hilarious!! 
It's also nice to have things to make life more comfortable in the car, like neck cushions, and sunshades to keep children from getting too hot when it's a sunny day outside or when they want to sleep but the sun might bother them.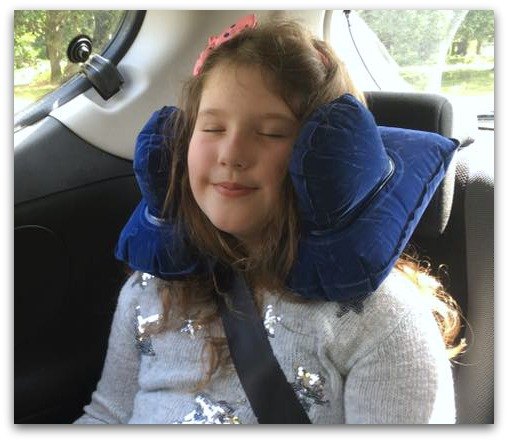 Doesn't she look comfy?
Something we try to do is make sure we stretch our legs and run about (well, the children, not the adults) when we are able to get out of the car, to give those cramped legs and tired of being in the car minds a bit of fresh air and exercise (well as fresh as you can get on the side of a very busy motorway car park in the middle of nowhere in France) and getting out a bottle of bubbles and letting them blow and catch them whilst mum and dad gulp down ghastly motorway service station coffee, is a fun idea. (of course make sure they aren't near any cars or the road, safety first!)
So, it is possible to keep the family busy, entertained and not too bored on a long car journey, a few simple things that we used that worked, that don't cost a lot, aren't messy and can be pulled out when the "are we nearly there yet?" cries start.
What sort of things do you use in the car to keep kids busy on long journeys? We would love to hear what other families do?
*this was a collaborative post, we were very kindly sent some items to enjoy whilst travelling, all words and images are our own*