So during September we took a Supermarket Siesta for a week. You can read a bit more here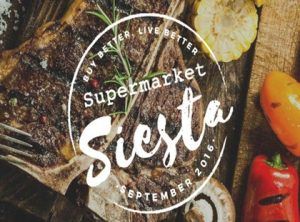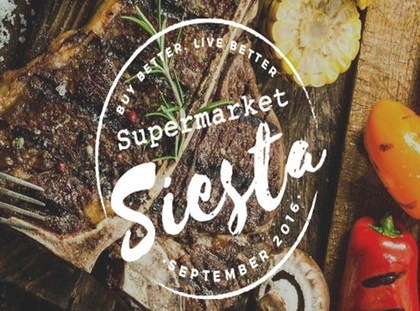 When I am meal planning for our family, meat and veg play a bit part of the shopping list. Normally I buy our staple meat, fruit and veg products from the supermarket, and occasionally the local market, if I have time to visit. It's relatively easy to either click on my regular shopping list online and add what we eat, or just cruise the aisle and buy what I need in the supermarket. However, things that I don't usually think about when buying fruit, veg and meat are:
Where they have come from, and how long it has taken them to get to the supermarket – fruit and veg, and the quality and source of our meat and fish. Whilst I would love to buy all organic and all expensive free range meat, we can't in reality afford that, on a regular basis.
During my time at the Supermarket Siesta, I sat in on a talk session on where produce comes from and how long it can take to actually reach the shelves of the supermarket. I had NO IDEA that some fruit and veg are chilled and transported and can take up to 3 MONTHS to get to us where we buy them. That shocked me and made me think differently.
So, for our week off from the supermarket, we had to be creative, because we do eat meat and we also consume a lot of fruit and veg.
I try and cook meals that we can stretch to lunch for the next day, for the adults in the house, to take to work so when we shop for food I have to plan for that and in our week of being less reliant on the supermarket, and using other sources instead, I had to plan carefully.
The principal of Supermarket Siesta is that instead of the supermarket, you use local businesses or companies, or source your groceries from independent suppliers or those who source products in a better way than the supermarket. In our week we used both FarmDrop and Market Porter to supply us with food.
The pros of using other sources instead of the supermarket are:
You are getting fresher, more local produce.
You can pick and choose from a wide range of produce, and have it delivered to your door when you want it.
Items are better quality, sourced from producers who really care about what they are selling.
The downside is cost and convenience – it does work out to be slightly more expensive to buy from alternative sources for your staples like meat and veg, and it also requires more planning as if you are serious about not wanting to avail yourself of the supermarket, you need to make sure you have what you need, or can plan to order things to suit your week, or re order if you have to top up. (for example, if I plan my week of meals, but then decide to invite friends for dinner one night at the last minute, I need to plan to feed them!
But there are ways round that. We decided that cost versus quality meant that we would still by meat, but less, and make it go further, and eat more fruit and veg and vegetarian options. So we still enjoyed good quality meat, but less of it. With our fruit and vegetables, we opted for local and in season choices, which are more reasonable for a family budget. We do like things like bananas and avocados which of course don't grow in the UK, but generally it is possible to enjoy in season, local fruit and veg if you are prepared to adapt your meal plans and eating.
We were very impressed with the quality of the food that we had delivered, the meat was certainly of better quality and tasted good (that bacon was amazing) and they also do cater for food intolerances and allergies, which is helpful, so we enjoyed excellent gluten free burgers and sausages, as well as making a chicken cooked for Sunday lunch last well into the next day for other meals.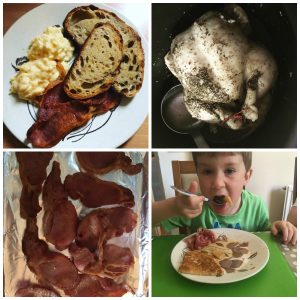 Mmmm, bacon! That chicken was excellent quality too.
The fruit and veg were beautiful, and yes, tasted as good as they looked and we were impressed with the selection and also the prices aren't that much more than the supermarket when you think you are getting better sourced produce.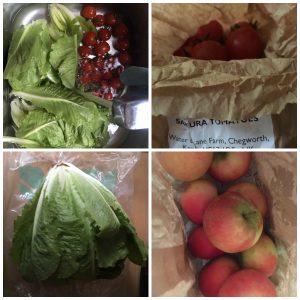 Look at that lovely fruit and veg? It tasted as good as it looked…
I was also delighted with the way that the companies worked and the service provided. Items arrived boxed, and in good condition, and I was able to chose when was convenient for me. With a little budgeting and a few tweaks to our meal planning, I think we could manage mostly to order our meat and fruit and veg and generally avoid the supermarket.
Thank you to Market Porter and FarmDrop for our lovely deliveries of food. All words and images are our own.
Next time, I will be sharing about the nitty gritty of other basics in a grocery shop and catering for food allergies and intolerance without relying on the supermarket…