A collaborative post with some helpful tips to make life easier…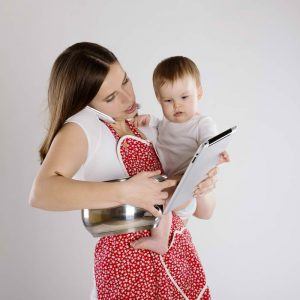 Image from Pixabay
If there is anyone who needs more time in a day, it's a mom. You are juggling the kids and their busy schedules, working, keeping up with endless chores and trying to find five minutes to shave your legs from time to time. With all that, your 24 hours get used up pretty quickly.
When you find simple tips that save you precious time, you feel like you have won the lottery. So, with this in mind, check out the following four mom hacks that will make your life easier and more organized:
Use Dish Drying Racks to Store Art Supplies
Coloring and dot-to-dot books, along with their accompanying pens and crayons, have a way of breeding when you are not watching. They transform into huge teetering piles and seem to pop up all over the place.
Tame your tots' art supplies with cheap dish drying racks. Tuck the books in the rungs of the rack, and use the silverware caddy for the magic markers and crayons. While you are at it, pick up a couple of dish racks for yourself and use them to hold folders for your work-related projects, bills and other paperwork, as well as pencils and pens.
Hang up Your Cleaning Products
It can be hazardous and disorganized to store your cleaning supplies under the sink. Instead, spring for an over-the-door shoe holder with plastic pouches. This lets you keep your bleach wipes, spray cleaners and other products in one handy place that is also at eye-level. To keep your curious kids away from the chemicals, install a lock that is up high on the door.
Give Sous-Vide Cooking a Try
One of the best ways to save time in the kitchen is to use cooking devices to your advantage. A great example is a crockpot. Toss in some chicken, salsa and a few spices in the late morning and voila, you have a delicious meal that is ready to serve by dinnertime.
Sous-vide cooking is another automated cooking solution that uses water to precisely prepare foods. The Mellow is a sous-vide machine that is as user-friendly as your beloved crockpot and can be used in conjunction with your smartphone. To avoid any water-related disasters, though, spring for a water-resistant phone that can handle a sous-vide splash or two. For example, the Samsung Galaxy S7 Edge can handle some heavy duty use in the kitchen, and you won't have to worry about spills.
Color Code Food Allergens
If you have young kids with food allergies, they need all the help they can get to distinguish what they can and cannot eat. If they are not old enough to read labels but can handle grabbing a snack from the fridge, make the process safer by color coding foods that are OK versus those that contain allergens.
You can pick up a pack of colored dot stickers and place them on your crackers, milk, peanut butter and more. Green dots mean the food is safe for your kiddo with allergies, and red means hands off.