So I shared a while ago on my social media, that I was trying out Slendertone. If you follow me at all, you will know I have lost a lot of weight (55lb, to be exact) but unfortunately weight gain, weight loss, two large babies have left me with that is called charmingly a "mummy tummy", where my stomach muscles are not what they used to be and because I have a mild diastasis recti that has never really healed properly, traditional stomach crunches are out for me. My tummy and it's lack of shape and wobbliness has affected my self esteem a bit and I have wanted to try and do something about it for a long time…
So when Slendertone asked me if I would like to try them out, I jumped at the chance. I have heard so many good things about them.
Slendertone Ab Toning Belts are the only abdominal toning product clinically proven to give you stronger core muscles and it's system is comfortable, easy to use, convenient to set up and adjust and you now can use an app on your smart phone to control it, monitor progress and keep track.

I have been using the system consistently for almost two and a half months. I haven't done any more exercise than usual, or really changed my diet, nor have I lost any more weight, but I can say that using the system daily, as recommended and increasing the intensity as I got used to the system means…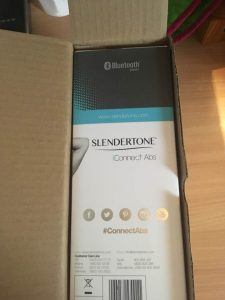 MY TROUSERS ARE NOW SO LOOSE THEY ARE FALLING DOWN…
Yup, seriously, my trousers are so loose now, they don't want to stay up.
My stomach and abdomen has definitely changed in shape and is less wobbly.
You can't tell from this photo, but the fact that I am prepared to take a photo of myself in the mirror shows that things have improved. I will be sharing a final update in a few weeks time, and I may even show you my actual stomach, if I am feeling really brave.
Now I need to get myself some new trousers, because whilst my children think my trousers almost falling down when we run for the bus, is hilarious, thanks to Slendertone, it's probably time I venture to the shops… 😉
Slowly saying goodbye to the mummy tummy and loving it!