I have a little secret to confess…
I am not a hoarder of stuff, and I don't collect things, and I like to keep things simple, but I do have a bit of a thing for lip balms. I currently own over 30 different types, that live in a big jar in my room. I think it's a by product of my school days when you felt terribly grown up and trendy when you had enough pocket money to go to the shop and buy a fancy lip balm or gloss (who remembers those sticky roller ball lip gloss things that came in all sorts of flavours with glitter? Yes, I am that old!) and whip it out at opportune moments to show it off and impress your friends, or compare who had the nicest one.
Anyway, to me lip-balm is an essential item. I am never without one, I have one in my pocket or bag, and even if I don't manage to get make up on, I always have a lip balm to put on.
I have some fun ones, and some more practical ones, a few fancy ones, and some drugstore budget friendly ones. I will often see one in the shops that I like and generally find a way to justify adding to my collection. My children are always borrowing them, particularly my tweenager daughter.
I have some firm favorites though, which range from the slightly silly, to posh enough to whip out at a party and practical ones in between so I thought I would share my top ten with you, just in time for Christmas, when finding stocking stuffers and little gift ideas may be on your mind…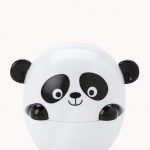 1. Yes, that's a panda shaped lip balm. I can't actually remember where I got it from, but it smells like coconut and I love it. I actually bought it for my daughter for Christmas, for her stocking last year, but then ended up getting one of my own.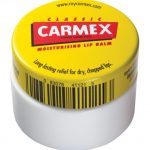 2. Carmex – I have owned a tube or tub of this since I first went to America, when I was a child, and got sore lips whilst travelling and my aunt bought me some. It didn't hit the UK for ages, so she used to send me supplies in the post. When I found I could buy it here, I was so happy.
3. Basically any kind of chocolate or coco butter smelling lip balm is perfect in my books.
4. Any of the lip balms by Badger. I love this brand, because they try and avoid using nasties in their products and also they always smell nice. I find them hard to get but you can pick them up online which is always handy.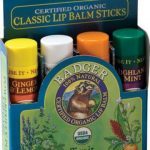 5. Reliving my tweeange years with some roller ball lip balms. I don't wear these often, in fact I think they are currently in my own tweenagers school bag, but I love them and they look cute and kitsch.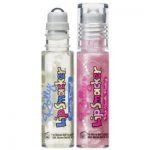 6. I like the Lavera range, particularly ones I can use when on holiday that double as a lip balm and sun protection. This one is very handy and I get the kids to use it too if we are in the sun.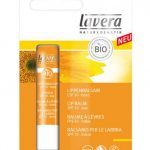 7. It's no secret I occasionally like a good gin & tonic, but sometimes it's not the right time for one, so why not have a gin & tonic flavoured lip balm instead? My kids got me this for Mother's Day this year. They clearly know me well! 😉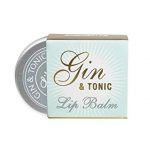 8. I try where I can, to avoid harsh chemicals and find things that are less harmful to our bodies, so these lip balms work well for me. Also, the tin is cute.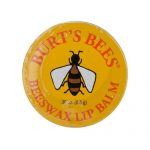 9. Coconut oil – I use it when my lips are really dry, before I go to bed, and it's also great to use as a base for lip scrubs. We keep a tub in the bathroom for all sorts of skin care purposes, it's super handy.
10. When I need a dash of colour, but don't want to wear lipstick, this is perfect. I love the colour and it lasts for ages and doesn't dry my lips out.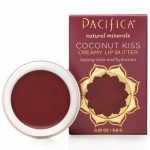 It's also vegan, which makes it an excellent gift if you want something for a friend or family member who is vegan or vegetarian.
So those are my top ten lip balms. Do you have a favorite or one you can recommended? Do you collect them, like I do?
*This is a collaborative post*