Ice Age 5: Collision Course is out on DVD and Blu Ray and we are delighted cos we love and have watched (many times) all of the Ice Age movies. To celebrate, we have a rather fun and fabulous couple of recipes, which you can make and enjoy, maybe even for a family movie night…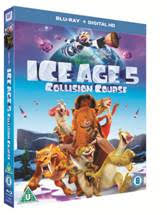 Scrat's Spaghetti Bolognese
Ingredients For the Bolognese sauce:
2 medium onions, peeled and chopped
1tbsp olive oil
1 garlic clove, peeled and crushed
500g lean minced beef
90g mushrooms, sliced
1tsp dried oregano or mixed herbs
400g can tomatoes or chopped tomatoes
300ml hot beef stock
1tbsp tomato ketchup or purée
1tbsp Worcestershire sauce  salt and ground black pepper To serve:
350g spaghetti
freshly grated Parmesan
Method
Put the onion and oil in a large pan and fry on high heat for 3-4 mins. Add minced garlic, fry until brown. Add mushrooms, cook for 2-3 minutes
Stir in the tomatoes, beef stock, tomato ketchup or purée, Worcestershire sauce and seasoning, take frozen herbs from an ice cube tray and drop directly into your Scrat's Spaghetti Bolognese
Whilst sauce is simmering, cook the spaghetti according to packet instructions. Drain well and rinse. Return to pot, stir in the meat sauce and serve
Once you've made this delicious Scrats Spaghetti Bolognese you can keep in the freezer to take out and re-heat whenever you want
and for dessert…
Peaches Pear Cobbler
Ingredients
3 to 4 cups sliced fresh pears
1 1/2 cups sugar, divided
1 stick butter
3/4 cup all-purpose flour
2 teaspoons baking powder  1 teaspoon ground cinnamon
1/4 teaspoon salt
3/4 cup milk, whole or low-fat
1 large egg
Method
Heat the oven to 325° F (165° C/Gas 3)
Mix the pears with 1/2 cup sugar and let stand. Leftover fruit from your Peaches Pear Cobbler can be frozen to keep them fresh for longer. Put butter in 2-quart baking dish and place in the oven until melted. Combine all dry ingredients, including the remaining 1 cup of sugar. Mix well. Whisk together the milk and egg in a mixing bowl; slowly combine with dry ingredients to make a batter. Pour over melted butter. Do not stir. Spoon pears over the batter. Do not stir. Bake in the preheated oven for 50 to 60 minutes, or until nicely browned and pears are tender. If the topping appears to be over-browning, cover the dish with foil and continue baking until the pears are tender. Serve the cobbler hot or cold with ice cream or whipped cream. Freeze leftovers for a rainy day and simply re-heat to serve!
After reading those you can't fail to be hungry…
You can enjoy Ice Age 5: Collision Course, which is available on Blu-ray and DVD from 5th December courtesy of Twentieth Century Fox Home Entertainment.