As a family, we have some issues with seasonal allergies and dust allergies, and both the husband and I suffer from seasonal allergies, and he reacts badly to dust. Both of us are also slightly allergic to the cats of the house, which we manage, either with medication (him) or sneezing a lot and putting up with it (me)
He often wakes up very congested in the morning and sneezes a lot, and when the cats are shedding their fur (which seems like always and not just seasonal) I struggle with a runny nose, sneezing, and itchy eyes. We also suspect that the small boy has a similar issue.
I had never thought of using an air purifier before to try and help with these issues, so when we were sent a rather fancy one from Fellowes, who happens to specialize in office and home equipment, I was interested to see the results and if it would help us at all.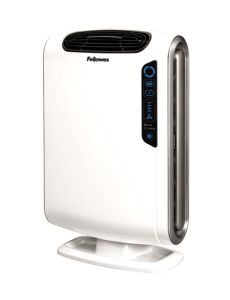 We are all a bit geeky in this house so when it arrived it was admired (and squabbled over, as to who got to have use of it first, Mum won on that one 😉 )
Setting it up and having a bit of a geek at the new arrival… It's the AeraMax DX55 Purifier
This is what it does:
Four-stage purification system captures 99.97% of airborne particles as small as 0.3 microns, including pollen and other allergens, dust mites, mould spores, pet dander, and cigarette smokeAeraSafe™ Antimicrobial Treatment – built-in protection from the growth of odour causing bacteria, mildew and fungi on True HEPA filter
AeraSmart™ Sensor monitors the air quality and automatically adjusts the fan speed to keep your air purified. Blue, amber and red lights indicate the purity of your air
Aera+™ Mode is designed for peak allergy conditions and increases airflow by 50%* to remove allergens from your air
Filter Change Indicators let you know when it is time to replace your Carbon and True HEPA filters
Recommended for rooms up to 18m²
Sounds very technical and impressive?  Basically it works to remove a lot of the nasties in the air that might be causing allergies and reactions to allergens.
I have to say it's rare for me to be so thoroughly impressed by a product from almost the get-go and to rave about it. This little machine really does work. We turned it on and followed the instructions to get it set up and running and then we let it work its magic. It is very quiet, it does beep on startup and hums away but you can barely hear it and it doesn't disturb us. It can be set to the level you need and adjusted and it also indicates when it's working harder or the air quality has changed. What impressed me though is that when we kept it running overnight, the husband woke up and didn't sound like what I fondly term "grumpy warthog" all sneezy and congested. He isn't currently taking medication to control his allergies so I can only conclude that the air purifier is helping reduce what's in the air and helping him. We have used it nightly ever since and it's definitely making a difference. In the daytime, I use it in the area where the cats and I spend most of our time in the house, and I would say it's making a difference too. I am less sneezy.  I am currently not able to take allergy medications, so having an air purifier is really helping relieve a lot of my symptoms. I am looking forward to seeing what it can do when spring starts to arrive and there is more pollen in the air, I think I will still be pretty impressed.
If you suffer from dust or pet allergies, or seasonal allergies, this may be an investment worth considering. I would recommend it. We are definitely convinced it's improving the air in our home. That's a good thing. We also find using a barrier balm helps with seasonal and dust allergies as part of our effort to help reduce the sneezing and sniffling in our house…
I am a member of the Mumsnet Bloggers Panel, a group of parent bloggers who have volunteered to review products, services, events, and brands for Mumsnet. I have not paid for the product or to attend an event. I have editorial control and retain full editorial integrity. (I have received a voucher in return for writing this post)