So we have had Christmas, Valentines Day, and now Mother's Day is looming, for those of us in the UK. Mother's Day here is different to the rest of the world and I am always confused because my mother in law is in South Africa and they celebrate Mother's Day at another time in the year. Pity poor LSH though, he has two dates to remember and not get into big trouble for forgetting.
We recently had great fun experimenting with a candle making kit, a gel kit, that was sent to us, and we have decided that it would be a perfect gift to either get and make the candles for your mum or someone in your life who does the job of mum, or for her to actually make the candles herself.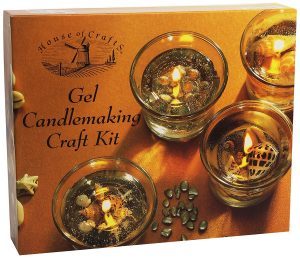 We had great fun making the candles. It's not an activity little kids could do alone, because you do have to melt the gel and pour it into the candle containers, so there is some supervision and help needed from an adult, but it's a fun thing to do and we made some beautiful candles. The children were delighted with theirs and I was pretty impressed at my own effort. They make such a lovely gift.

The kit comes with everything you need to make four small candles, with shells and sparkly stones inside, and is easy to use and clear up…
So, you will be pleased to hear that just in time for Mother's Day, we have a candle making kit, to giveaway, just in time for Mother's Day this year. Worth £20.
One winner will be sent a full kit, that makes four gel candles with enough gel left to make a few more if you have bits around the house you can use.
All you need to do is tell us what special mother's day treat you would like for yourself, or that you would plan for someone else. A craft, chocolate, a meal out, a lie in, a trip somewhere? Leave a comment, and then click on the Rafflecopter link below to complete your entry.
Terms & Conditions
One winner will be chosen by Rafflecopter.
Ends 15th March 2017
UK Entrants only
Any spam or multiple entries using different email addresses from same ISP will be disqualified.
Item will be posted to the winner in time for Mother's Day
No cash prize alternatives.
*This is not a paid post. We were sent an item to review and giveaway*