If you follow our blog at all or social media you will possibly be aware that our grand old lady cat Layla turned 13 (human years, which makes her in her 70's in cat years) recently and for us this is a big celebration because when she was a kitten she wasn't supposed to live very long. You can read her story here. So for a month, we are celebrating her, all things cat and pet related and as part of that we are working with some great brands and small businesses and have some fabulous giveaways to share with our readers. Layla is very important to us, she's the cat behind the name, and she was my baby before the children came along (she's never actually forgiven me for bringing them home, I don't think) so we are happy she is still with us. Her grumpy and stubborn streak has served her well. She has been through a lot and has lived more than 9 lives, and proved she is one special cat…
She is feisty, demanding, she loves human food, and she really is a central part of our family and we cannot imagine life without her furry and grumpy presence. She makes me laugh a lot, and occasionally annoys me (when she does "bad things" in places she shouldn't or when she wakes me at 5am demanding breakfast before the children are even awake) but I wouldn't swap her for the world. Who knew the day I took a little fluffy chocolate ball home that one day she would feature on a blog and be such a big part of our lives. She goes by the tag #grumpycat on social media and she has her own Twitter, Facebook and Instagram too…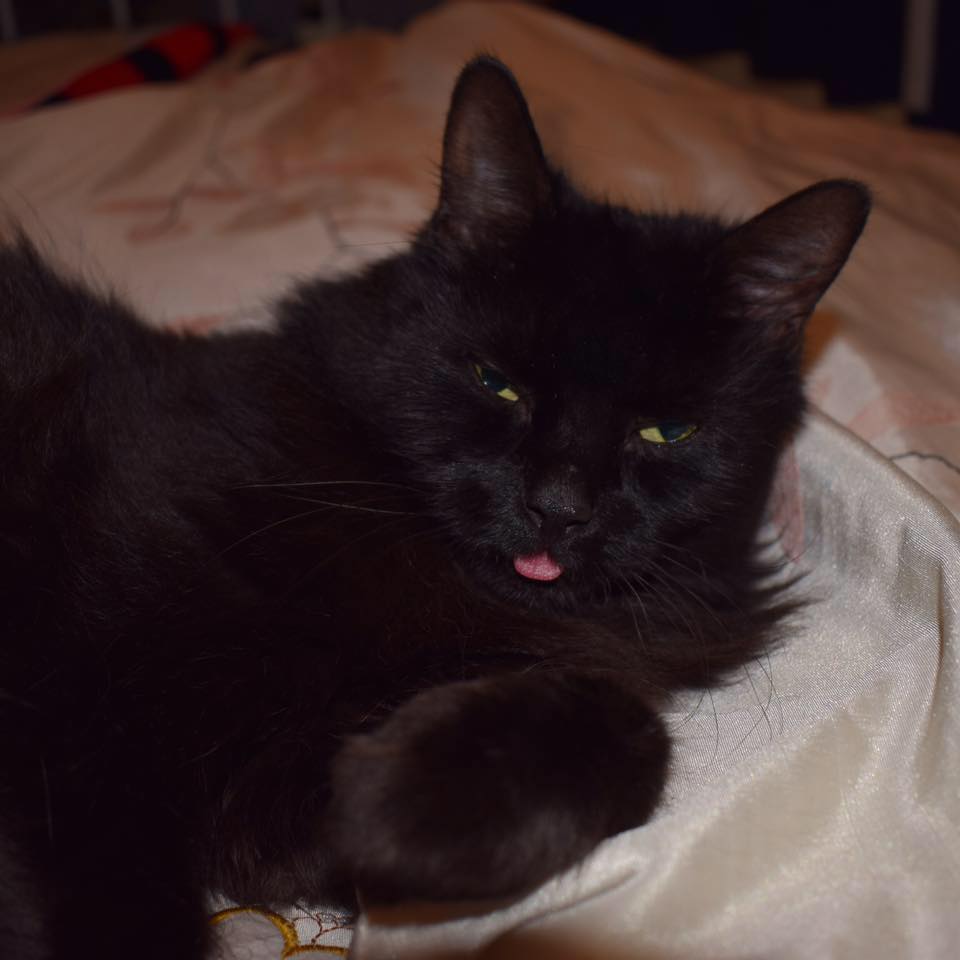 Some facts about Layla.
She is part Persian. You can tell in certain pictures. Her mother was a Traditional Persian and she gets some of her features from her. Her dad was a local mog cat, her mum managed to get frisky when she wasn't supposed to, and Layla and her two brothers were the result.
She actually isn't black, she is a very dark chocolate colour, but in most photos you can't tell.
She carries the FIP/FIV antibdodies and nearly died of the disease as a kitten. She is currently part of a long term clinical trial into the disease and how to find a cure. I have to give her medication every week and every three months she has blood tests to see how she is doing.
She LOVES human food, including Thai Green curry, scrambled eggs, chocolate cake, and anything with cheese on it. We recently realised that she has developed a dairy intolerance so she isn't allowed to eat cheese any more, we have to be careful because she will try and steal it if she knows it's around.
She is a one person cat. No one else is allowed to handle her, brush her, give her mediction but me, and when we go to the vet she is VERY picky about who gets to treat her (she bit a vet once, and now growls when they come into the room, she really is a madam!)
She is allergic to tick bites, and we live in a place where we get a lot of them. She has to be groomed weekly to make sure she hasn't got any ticks and she hates it. (we do treat her and our other cat for ticks too)
She refused to come near me and hissed at me for 6 whole weeks when I brought our first baby (the tween) home from the hospital. She tolerates the small boy much better and allows him to feed and stroke her, though.
She once made friends with the builders next door and spent a summer being fed Polish sausage and bacon, unbeknownst by me. When we went to the vet for her check up she had gained 1kg which is a lot for a cat, and it was only when I spotted her sitting on the lap of one of the builders in the garden, that we realised she was being fed extra food and spoiled. She was very sad when they finished and left. She lost the 1kg when they went away.
She spends most of her days now either asleep on my bed, or sitting in the shade in our next door neighbour's garden winding up their dogs who are all terrified of her!
So as you can see, she's a bit of a character.
So to celebrate her turning 13, we are kicking off our giveaways with a voucher to a pet store that has served us well and is a regular haunt for us, looking for pet supplies. Pet's at Home have kindly agreed to help us with this, we spend a lot of time in our local store, usually with the children trying to persuade us to bring home more pets…
One person will be chosen and will recieve a £25 gift voucher that can be used online or in store at any UK branch.
All you have to do is comment on our blog and tell us what your pet or pets are called and if they have any funny quirks like Layla? Then click on the giveaway link and complete your entry. Layla says good luck and we look forward to hearing all about your pets and their funny ways!
The winner will be chosen on the 13th August and will be sent the voucher by post.
Terms & Conditions
No cash or alternative prizes
UK entrants only and over 16
Entrants must complete all requirements, no spam entries.
Winner has 21 days to respond then a new winner will be chosen.
Please see our GDPR details for information on privacy and data handling.