*This is a collaborative post with NE Trophies*
We have a lot of family traditions, for Christmas in our house. We make gingerbread houses, we bake a Christmas cake and mince pies, we decorate our tree with baubles that are very personal and special, and choose a new one each year, for each of us, and we spend time with good friends on Christmas eve starting the celebrations early. We also allow the children to open one gift each, on Christmas eve, from us, and of course, we leave out a special tray for Father Christmas and his reindeer.
A Christmas Eve box, is a lovely idea that I know people do, to make Christmas Eve more exciting and add to the fun. You can add to the excitement and mystery of Christmas with a box to fill with goodies to be opened by its recipient before bedtime.
This is not only a lovely way to add to your Christmas traditions but also a way of spreading some of the gifts and treats a bit, over the festive period, I think.
You can make it even more special with a personalised box, that can be kept and treasured for many Christmases as well as being a little bit more eco-friendly too
NEtrophies make beautiful personalised boxes in a variety of sizes that you can use to make Christmas Eve that little bit more special, and whilst it could be just for the kids, you could also make it for the kids at heart too, and have a box for everyone. The husband and I tend to open our gifts to each other on Christmas Eve so this would be a fun way to do that.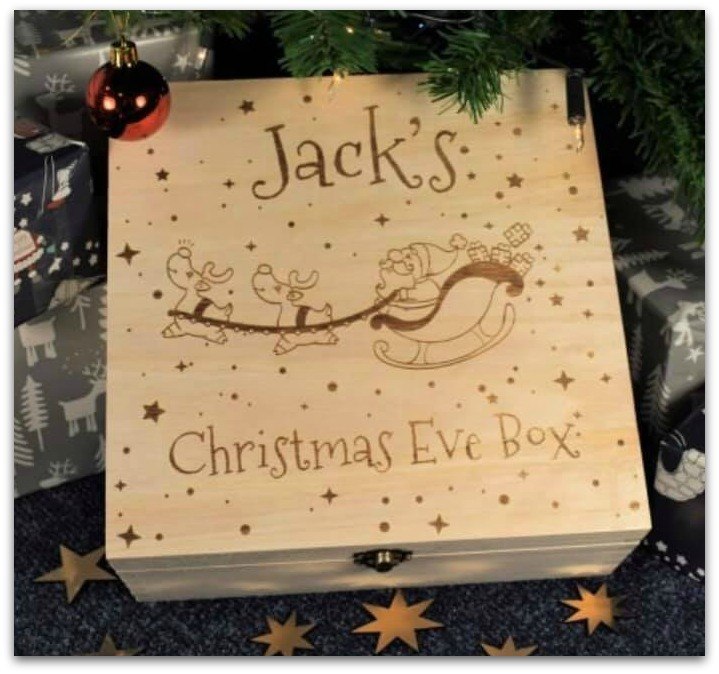 You can have any name added and they have a lovely choice of boxes so everyone can have one that is personal to them.
These would also be fun if you want to keep things in them during the year when you aren't using them for Christmas gifts. You could keep special decorations inside to protect them or special cards you want to keep and treasure.