*This is a review post. We were kindly sent a CarGoSeat car seat to try*
There are not many things that I make a huge fuss about as a parent anymore, having learned that sometimes you win and lose battles no matter how hard you try. But car seat safety is something I am very much on top of and insistent on.
My boy is still under the legal requirement limit for needing a car seat so he uses a booster seat in our car. The UK car seat laws were updated a few years ago, and we stick to those because children being safely restrained in a car is a non-negotiable as far as I am concerned.
The only problem we have is when we travel and we don't take our own car. Going away using public transport or going on holiday where you may not be able to hire a booster seat is tricky. Not all countries have the same rules around car seats and not all car hire companies provide car seats for older children. You can take one with you but it can add to your luggage capacity. I hate having my kids ride in cars without a seat to make sure they're positioned safely. Thankfully CarGoSeat have a solution.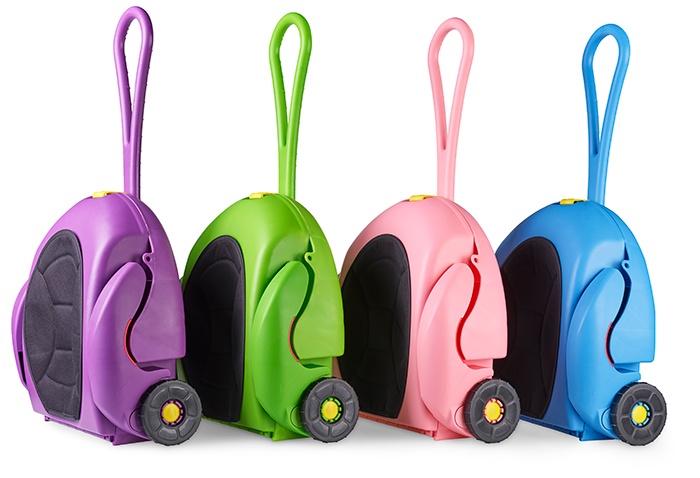 The worry about the history of borrowed or rented seats, along with the added cost, and fear of not being able to get one at all in taxis or transfers, led Gary to design the lightweight, great value booster. CarGoSeat can be taken anywhere, providing a simple solution to a very real problem and offering total reassurance for parents.
We all know space is at a premium from the minute you have children, especially when travelling, so utilising empty space they are sitting on, gives heaps more room in the car. CarGoSeat also puts an end to the heartache of lost teddies or favourite things as the case closes securely, keeping all their important things safe.
Sounds good? But is it safe? I was very reassured to know some more safety details and that it meets legal requirements too.
Safety Features
CarGoSeat is suitable for a child weighing 22kg to 36kg and a height of 125cm or taller.
The booster meets the current UK & EU safety standard ECE R44/04 regulation.
CarGoSeat has been rigorously crash tested to meet exceed UK safety standards.
Easy to use seatbelt positioning guide ensures the belt is at the right place on the child.
CarGoSeat fixes in any car using the built in 3-point seatbelt.
Basically this is a very handy, safe, and easy to use solution to avoid being stuck whilst traveling without a booster seat when you are going abroad or somewhere where you won't or can't hire a car seat. Because it can be used as a travel case as well, it means you don't have to worry about the extra baggage of a car seat, or taking your very expensive car seat that might be damaged in transit (as has happened to us)
It's durable and light enough to be carried or pulled along by a child, but reassuring to use when you are in a taxi and want a booster seat so your child is seated safely.
You can see how it works here
The only problem we now have is that the boy wants me to plan to take him away somewhere to use it. He doesn't want to wait 'til we go away for a weekend after Christmas when we will take it with us to use on our train trip when we need taxis and he can use it.