Emily here – I've always loved magic card tricks especially ones with an ordinary pack of playing cards so I have grabbed my mum's blog for a few minutes to share about how I like to do tricks as a hobby. Anyone can learn to do these, if you practice. It's all about keeping your audience guessing.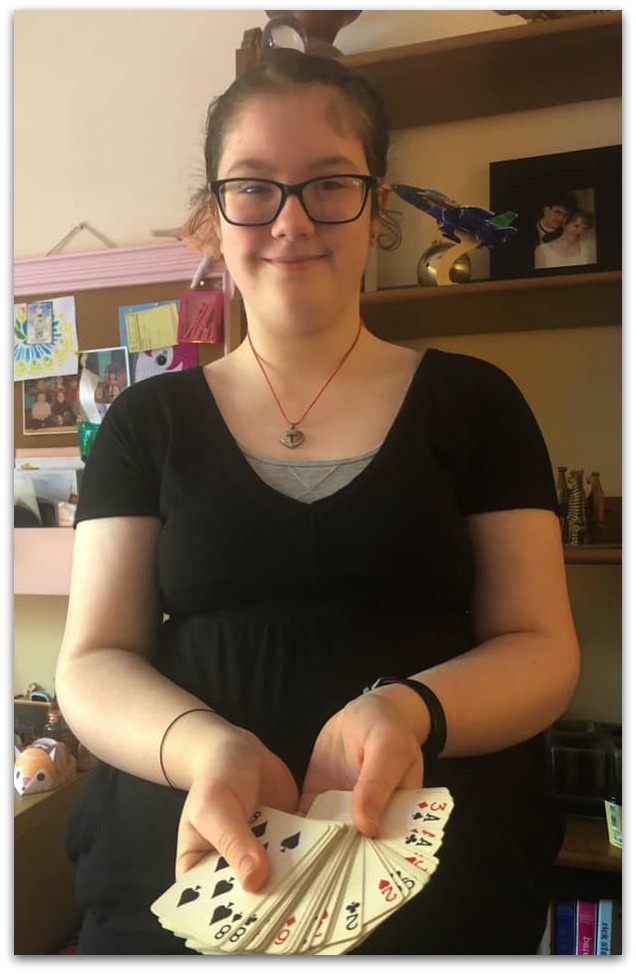 I've been doing card tricks since I was about 7 but I've recently taken them up as a hobby (ish). I've been watching people do magic tricks for as long as I can remember and have always had a small passion for performing tricks. I love the feeling of amazement and curiosity as I watch someone perform the coolest tricks with such little effort.
I've learnt a lot of my tricks from my friends but I've also learned a few from online. Why do I do card tricks? Well there's a simple answer to that. I love the joy and sensation of doing a trick in front of a crowd and wowing them by getting it right. I love that often the simple ones are the best one. I enjoy working hard for something and the sensation of it going right makes all that work worthwhile.
You can pretty much apply that last sentence to anything but I apply it to card tricks as I love the challenge and entertainment it provides me – especially during lockdown. If you are looking for something to entertain yourself I seriously recommend card tricks. Even if you start off with the most basic ones and work your way up. As long as you enjoy it and practice you'll be about to do the hardest ones in no time. My brother and I have made a video on how to do one of my favourite tricks, the link is down below so have fun learning new tricks. I had to bribe my brother to help me and he's a very demanding film director so ignore him being cheeky.
So now you can do some magic card tricks of your own and impress your family and friends, why not give it a go?