*We were kindly asked to review some fun stocking fillers from Buzz Retail but all opinions are our own*
Stocking fillers for me, for both the kids and husband, are often tricky. When the kids were little it was easy to find small things they liked to pop in their stockings but now they are older it's getting harder and I want to find things that are fun, and appealing. Buzz Retail has some brilliant ideas on their site and available from good retail stores too if you are popping to the shops.
Nail Art kits.
These are a brilliant idea, and one my teenager loves. Great for fun and creative nail art that is easy to do, comes off easily with nail polish remover (because school rules!) and a fun gift idea for someone who loves doing their nails and a brilliant stocking filler idea, or a stand alone gift if you are budgeting for that.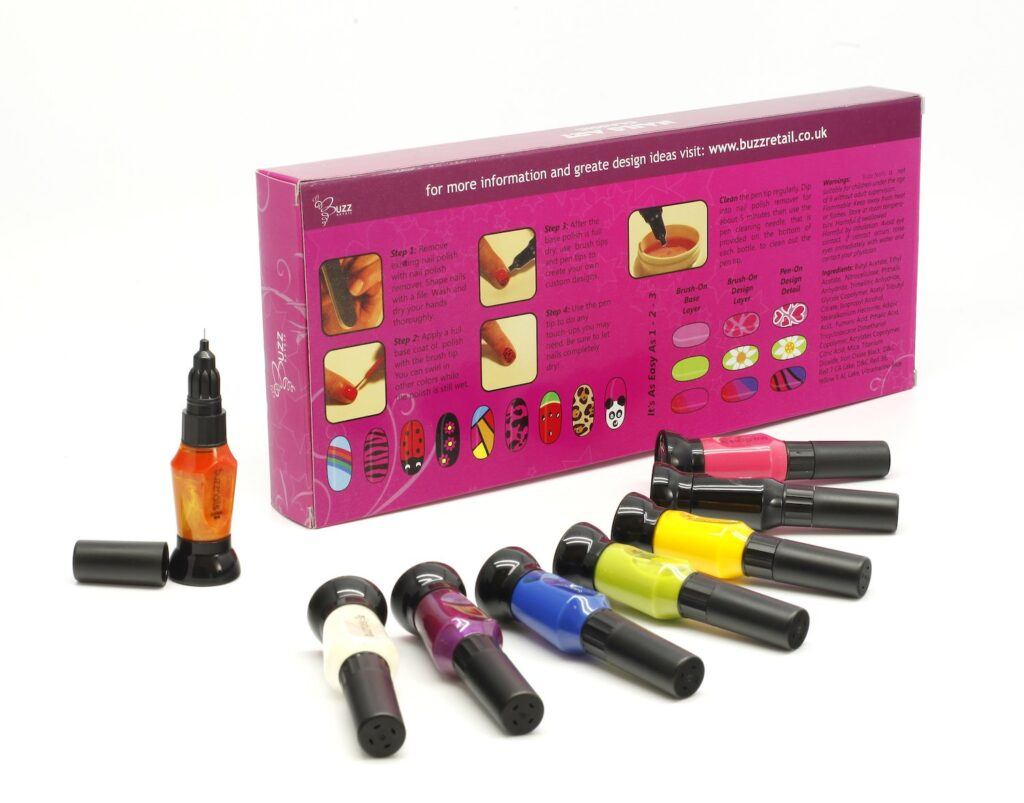 Create fashionable and fun nail art designs in minutes. Each colour comes with a brush and a micro pen. It is as easy as 1-2-3: Brush on the base layer, Brush on Design layer, Pen on design detail. The set contains 8 different colours that each can be used as a brush and a pen.
Hair chalk
Hair chalk is brilliant for hair colour and fun, but with the ease of being able to wash it out too. I am a big fan of letting kids experiment with their hair in safe ways that are not so permanent (again, school rules) and hair chalk lets them go wild with colour but not be stuck with it. It's easy to use and fun. You do have to experiment with it as it can be a little hard to achieve strong colour on darker hair or if you have a lot of hair, but because it washes out it's a great activity and perfect for parties or dressing up. It's one of those gifts that won't offend another parent who like me, doesn't want their kids changing their hair colour too drastically or permanently.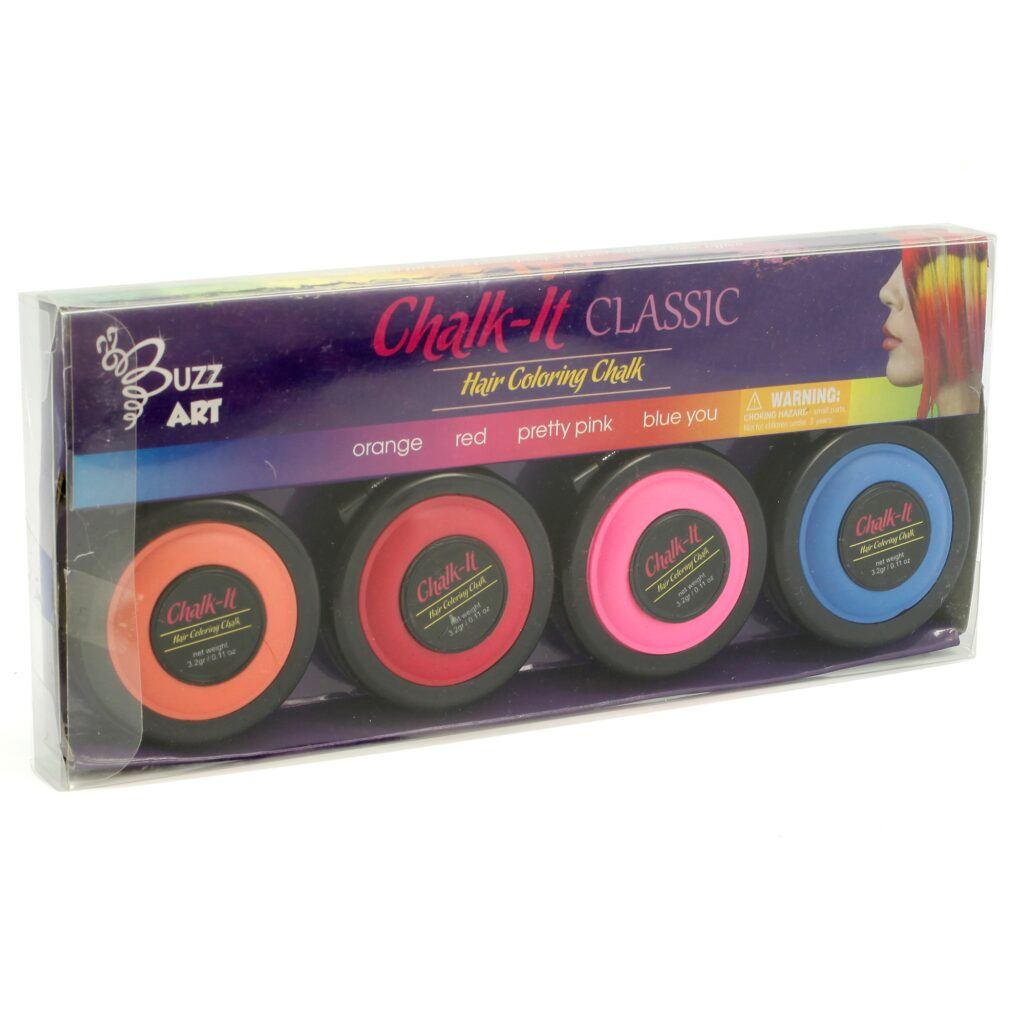 A cool and exciting new product that allows you to colour your hair without damaging it. The Chalk-it comes with 4 different colours and works for all hair types. Once you want to remove the colour just wash it with water. It looks amazing, easy to use, not messy and done in seconds!!!
Body Art and temporary glitter tattoos.
These are my personal favourite (I am still working up to my mid life crisis tattoo) and a great gift idea, for parties and adding sparkle that is easy to do but also washes off. I love glitter and glitter tattoos are a great way for kids and adults to create body art for parties, or just for fun. These work really well and come with everything you need to create your own styles or you can use the templates that coem with the kit. They wash off with soap and water or you can use some make up remover if you need to.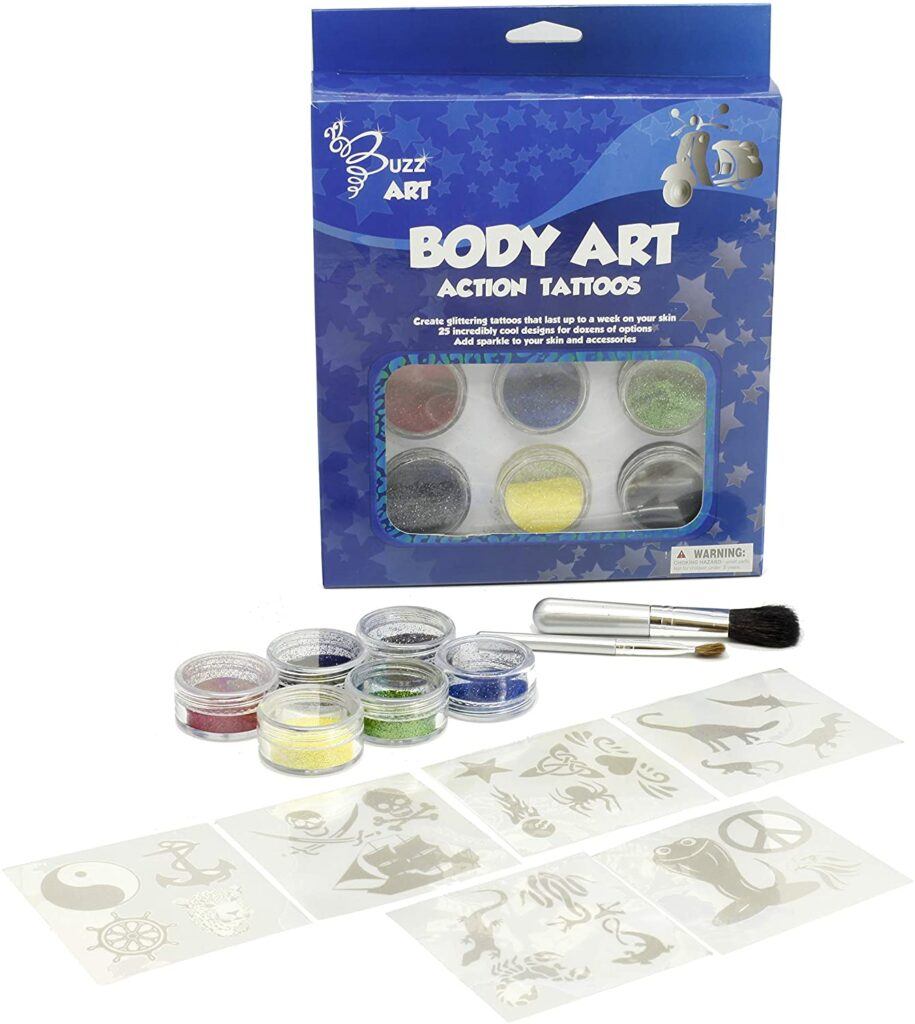 Create glittering tattoos that last up to a week on your skin but can easily be removed with water. It is the easiest and safest way to decorate your body with eye-catching designs and sparkling glitter colours. Each set consists of 50 cool designs and 6 excellent glitter colour pots, allowing you to create dozens of different colour combinations. Just place your chosen design onto a clean dry area, hold down for 1-2 minutes and then gently remove the clear film from the top of the sticker.
We think all of these make for great stocking fillers or gifts for someone. They are also fab to add to your collection at home for body art fun creativity.
Now, about that glitter tattoo I need to try on…