We are 17 days post the day we realised we probably had Covid19. It's been a bit of a rollercoaster time. We've gone from feeling ok, to feeling really crap, a very poorly teenager, to feeling like we were on the mend, out of isolation but then also feeling a host of things that appear to be "post covid" symptoms. I swing between feeling incredibly tired and slightly breathless to feeling almost normal, and I have a headache that won't go away. The husband is also dealing with some issues and the teenager is too. But we are told to carry on and go back to normal and only bother our GP or medical services if this continues after four weeks, so we plod on.
Today we made our Christmas cake. I usually try and make it at the start of November but we all know that the best laid plans never work out the way we want them and we were too poorly with covid to try and bake. 
But it's made, and I can actually faintly smell it, so we are back on track. It will sit in its air tight tin, with a weekly dousing of brandy, til Christmas, and will be enjoyed with cheese or with coffee in the week after Christmas, as is our tradition. If you'd like the recipe it's here and you can make it at even shorter notice than I did and it still works. 
I'm trying to persuade the husband that to cheer us all up we need to put our Christmas tree and decorations up. So far he's not convinced and is holding out for the last weekend in November which is our usual time to put the Christmas things up. I'm working on him.
I had an online eye appointment today. I have an eye condition where I have little to no muscle in one eyelid and this makes my eye look tired and half closed all the time. I need a fairly simple surgery, a blephoraplsty, in fact, to try and improve things. I was supposed to have this done in 2020 but we all know how 2020 went. It now looks like it may not happen until next year. We do have the option of having it done privately, so today I had a chat with a doctor to see what the options are for that. It's not life threatening but it's causing me some issues so I would like it dealt with.
Other than that, another day rolls on. I am typing this from a cafe in Covent Garden whilst my son attends his London ballet classes. It's cheered me up tremendously to see the Christmas lights are up. We've been away for three weeks and it's already dark, but the lights and Christmas decor makes that entirely ok.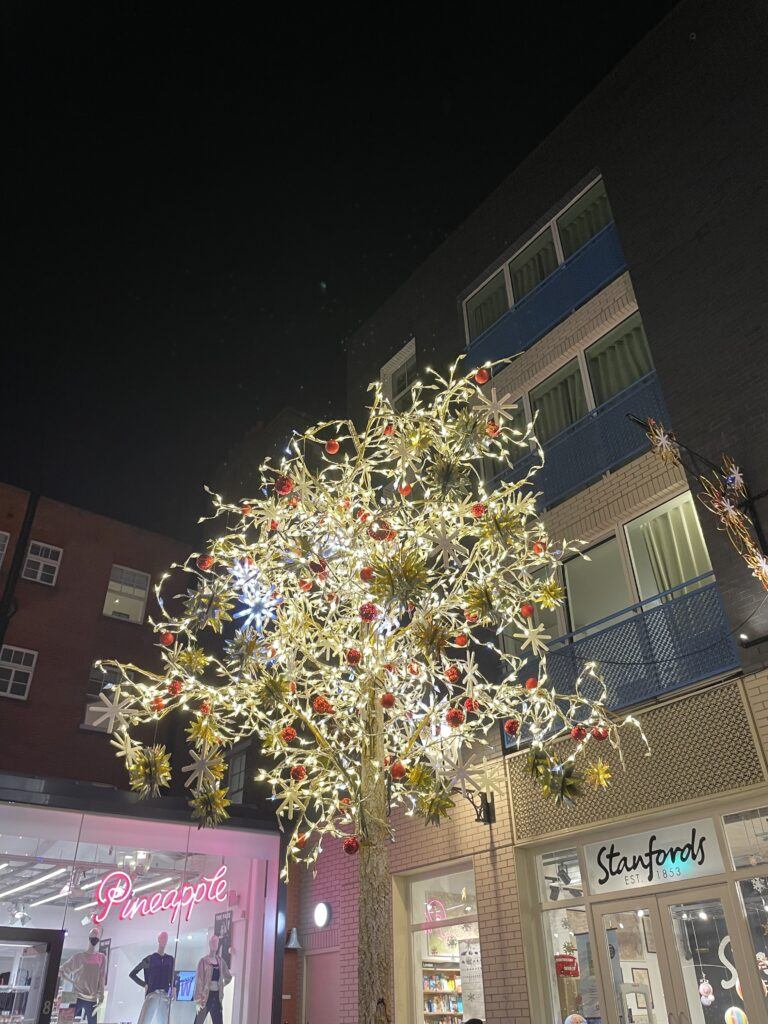 Now, to send another text message to the husband "about putting the Christmas decorations up early…?"
Wish me luck?