As a family we love experimenting and trying new things, and I always am on the look out for fun projects that we can do that incorporate learning into them.
I am not a gardener, but I do love plants and nature, and anything to do with easily growing things, that the children can also enjoy and be part of.
So the idea of growing a willow wand, is something that appeals to all of us.
The Willow Wand  have very kindly sent us a willow wand branch to plant and grow and we are quite excited by this.
Hardy Willow Wands are hand-crafted in the UK from nine living willow stems, each expertly selected by the company's master weavers. The finished product – a stunning symmetrical wand that forms an eye-catching feature in any garden – is woven by hand with impeccable accuracy and skill.
Stems of the Willow Wand remain fixed at the same height, but over the years they'll graft together and become one single willow trunk, while retaining a beautiful twisted decorative effect.
In as little as six weeks after planting, decorative stems of the Willow Wand will have grown a delightful topiary crown. All gardeners have to do is trim the crown into any desired shape – no expertise is needed. Wands create wow factor when planted as a centre piece, in groups or to form standard decorative hedging. They'll thrive in sun or shade.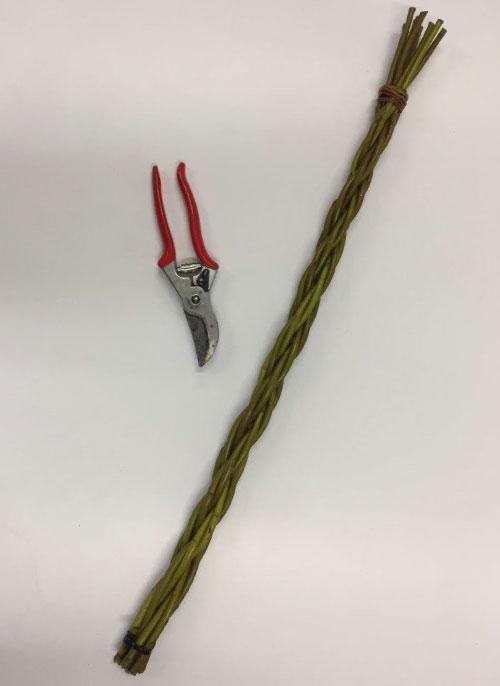 So we are looking forward to planting it, and seeing it grow. It has arrived, and it's instructions seem pretty simple, even for non gardener me, and we are planting it, in a spot in our garden, where we hope it will flourish. It will be a fantastic learning project for the kids, to watch it grow. The kids say they it needs a name, too. We haven't decided on that. It will probably be, erm, Willow…
It comes all boxed up protected and ready to plant, and it's a really fun idea, and would make a great gift for someone who loves planting and gardening or an unusual anniversary or celebration present. It could also even be a memorial gift, or just something a bit different if you are looking for gardening and growing inspiration. If you are a Harry Potter fan or know someone who is, then they might also like this as a gift idea.
So watch this space to see how we get on, and what it looks like. We will be updating and sharing another blog post when the tree has started to sprout and bloom. We are very excited to see how it will turn out. Come back in a few weeks to see how we are getting on, we will be sharing a full review and update.