This is a partnership post with  The Red Cross sharing about their free First Aid App.
As a mum and also working with small children and babies and being a former pediatric nurse, I think knowing appropriate First Aid and having the right resources is essential, for all parents and this app is a handy addition to any family's First Aid "kit" for at home, work, when out and about, or traveling.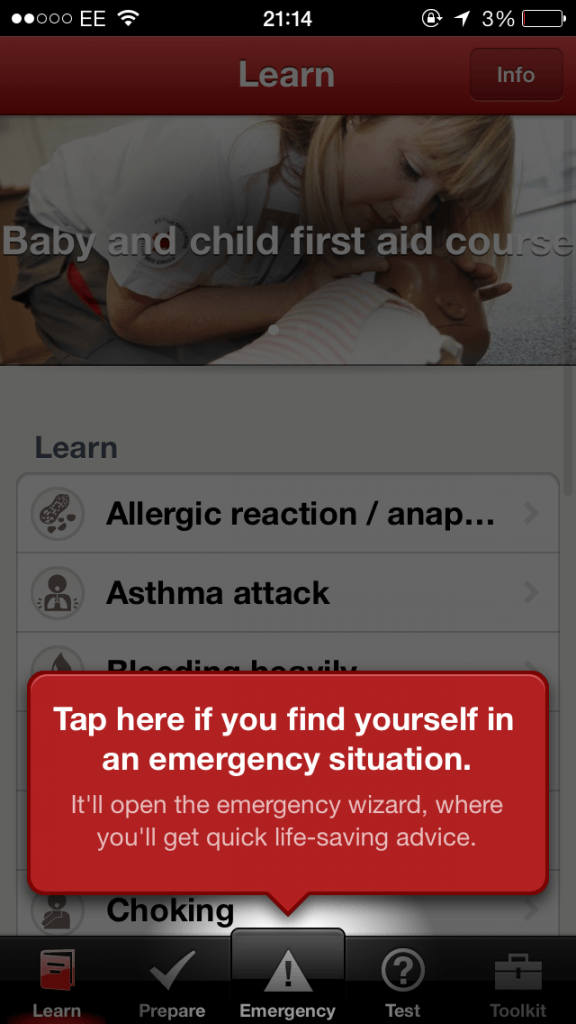 I am actually a qualified First Aider, having to be so for my work, but not everyone is (although I personally think all everyone capable should be) so this app is very useful, not only for emergency situations but for common things, like childhood illness and injuries, that if not treated promptly and correctly, could result in serious consequences.
It's very easy to use app, and free to download. It comes with sections, for Emergency First Aid, and what to do, when to seek help and how to seek help (now that there is a 111 number, as well as the well known 999 number, it can be a bit confusing) and it's instructions are clear and concise.
It covers all the basic areas of serious First Aid, with diagrams and pictures, and the navigation is easy. I actually got my daughter to read through some of the instructions and she was able to understand them too, which might prove useful in an emergency. It also has voice instructions, on what to do, so you can listen to it, which I think is an excellent idea, if you are on your own, dealing with a serious situation, or need both hands to do what is required. Reading, absorbing, and acting on information in a sudden, urgent situation could be stressful, so this bit is very useful.
It covers what to do in situations: Anaphylactic reactions, asthma, bleeding, Broken bones, Burns, choking in a child and a baby, seizures, croup, febrile seizures, head injuries, nosebleeds, poisoning,  and unconscious baby and child, with up to date instructions.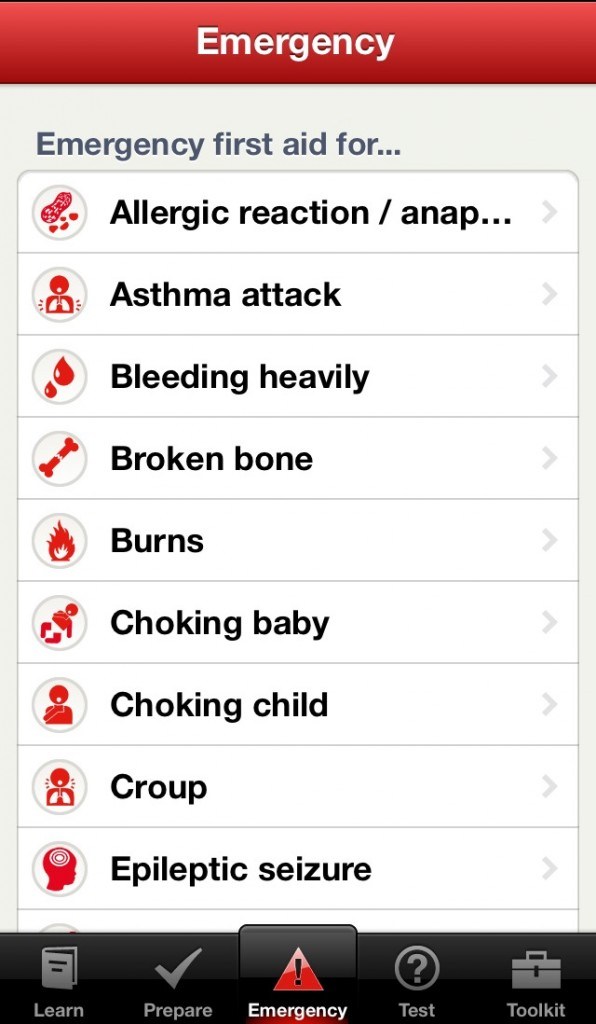 It also has a comprehensive section on childhood illnesses and conditions like croup, stomach bugs, fevers, and when to call a doctor or get emergency help. I was pleasantly surprised to see it also promoted breastfeeding (a topic I am passionate about) for those who are nursing, a sick child, instead of telling a parent or carer to give other fluids as is common (and incorrect, for a breastfeeding infant) and it had sensible lists of what to look for symptom wise.
It also has a section on Meningitis, which is important, given how serious and sometimes fatal that can be. This is handy because we all know that meningitis or its possible symptoms, need to be reacted to fast, and a parent or carer may not have time to fiddle about on the internet or finding a booklet or calling and getting through to the 111 lines (although we have found their services excellent) and if they can pull out the app, and read through the advice and then act accordingly, it may save time and get the child the treatment it needs as fast as possible.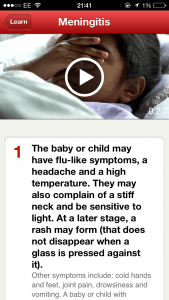 There is a very handy section on what you need in a First Aid Kit, and how to use it, and also has a list of items you could improvise with, should you find yourself without a proper First Aid Kit, which is handy. You can also test yourself on how you should respond to situations, and work out if you are ready and prepared.
The section I really liked was the "Prepare" section, telling you how to plan for, deal with and what you would need if situations like sports injuries, a fires, road traffic accidents, hot weather and cold weather occurs and also advice on travelling and what you  need in terms of immunisations, medications, first aid kits, sun protection, and clean water preparation. This is incredibly handy. (It also had a section on health insurance, in Europe and medication and links to various websites for more information. It also has a Hospital Finder, which can be used with GPS to find the nearest hospital or emergency department, and has a quick "call 999" key.
I would say, that I would recommend this app to anyone who looks after or has young children, as a useful parenting tool, for emergencies or situations requiring First Aid. It's a great source of information and practical steps and the links and extra bits are incredibly handy. I would be happy to pay for this app, too. My husband has the app on his phone, and I would tell anyone looking for a resource on First Aid to download it. It's available on Android and iOS for phones and tablets.
For further information, about the app, and also for First Aid information generally, you can check out the Red Cross Website here.
*This was a review post, we were not compensated in any way for reviewing and using the app, all thoughts and opinions are our own. Photos were taken from the app using my phone*