When is kitchen towel not just kitchen towel?
Well, according to my small son, it;s when it come in a "packet that looks like a rocket" and to my daughter, when she can use it for all sorts of crafts and creativity, and for me, it's when you have a tough, multi purpose, easy to use, but also environmentally friendly paper towel that gets jobs done…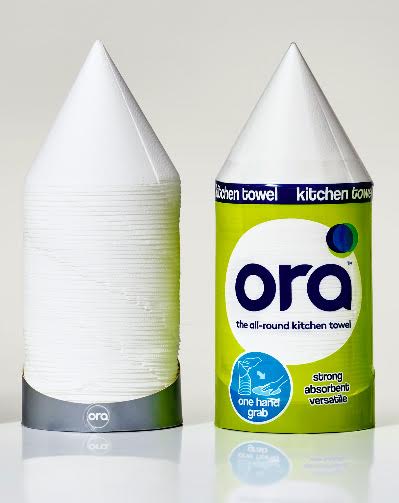 Ora kitchen towel, a bit different but very clever…
"Easy one hand grab – no tearing, no unravelling, no wastage. Twice the number of sheets than on a conventional kitchen roll. Clever, economical and too good-looking to hide under the sink."
The towels are round, which is a little unusual, for a kitchen towel, but they are designed this way because they fit better in your hand and also because the edges of conventional paper towel often don't get used. With Orla, more of the towel is used and absorbs spills and mess, which makes it more economical. It also makes it more compact. There is twice a much towel in a pack as there is in normal kitchen roll, and because they are stacked you just grab and use, with no tearing or fiddling with flimsy sheets. They are tough and strong too. I spilled oil on our kitchen counter whilst cooking, and grabbed an Ora towel, to wipe it up and was delighted to see that it did the job, soaked up the oil, and I was able to wipe the surface and no greasy mess was left behind. No soap or cleaning spray required. Impressive!
Basically, you can't really go wrong. Cost wise they work out well, for your budget too, with more in a pack.
I find it incredibly handy to have in the kitchen for general use, wiping up spills and mess. It is useful for wiping the children's hands and faces after meals (it would be perfect for toddler mess too) and I even used two pieces of it to dry and wipe down the hamster cage, after we cleaned it out, and was impressed at how absorbent it really is.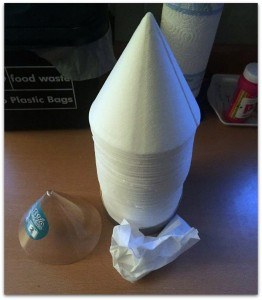 Sorry ordinary paper towel but you have been replaced…
I had to stop the children from using it, because they loved it so much, for creating things. My children are much more creative than me, and came up with a list of things they could make out of Ora towels. Angels, snowflakes, rockets, cups to hold things in (with a little creativity and sellotape) and it also proved useful for cleaning up after a painting session.
I can think of lots of ways Ora towel would be useful, and I am actually taking a stack to work, to use at our toddler groups and in the kitchen. Sticky hands, cleaning up juice spills, mopping up the occasional splash of coffee that I always find and because it isn't fiddly to use it works well. It would be handy for camping, and anywhere you would normally use paper towels. You can find out more about them, what they can be used for and how they compare to ordinary paper kitchen towels here
We love Ora paper towels so much, and would definitely recommend them, and we thought our readers might like some too, so we have a little giveaway…
If you would like to be in with a chance to win one stack of Ora towels you can enter by telling us what creative way you would use it, or how handy it would be for you at home/work. Then use the Rafflecopter link to compelte your entry.
Terms & Conditions
One winner will be chosen at random, by Rafflecopter, and will win one stack of Ora Kitchen towels.
No cash prize alternative.
UK entrants only
Giveaway ends on 1st Feb 2015, winner will be notified by e-mail within 48 hours.