We are very excited here, to share about something we think is wonderful and that we think our readers will love. No it's not the Sting song or the movie. This Message in a Bottle is personalised children's book. It's has been created by acclaimed children's author Tom Percival and illustrator Tuire Siirainen and it really is special. I was very lucky to be asked to be part of the launch team, helping with working on making the book possible and it's been so much fun watching it grow and become real.
What is it?
Message in a Bottle is a uniquely personalised children's adventure book, where your child's name, address, and your personal message to them seamlessly become part of the story!
Message in a Bottle will be a 40-page, high-quality full colour book printed in the UK. We are scheduled to finish the book by July of this year and have it shipped to backers in August.
Acclaimed children's author Tom Percival and illustrator Tuire Siirainen have teamed up to create a personalised keepsake perfect for any milestone in your child's life, or just as a way to say 'I love you'.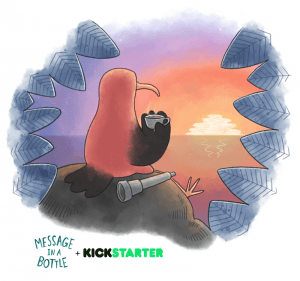 What makes it special?
Kiki the bird has a message to deliver – a message for your child! Build excitement as you follow Kiki's adventure around the world to deliver your personalised, heartfelt words.
The story itself is a fun and educational journey that introduces animals from across the globe and lets your child follow Kiki's progress from the shores of Hawaii to their own home!
Build a bond between the child and the sender – parent, relative, or friend – through the unfolding mystery of the secret message in the bottle, crafted especially for the child and designed by you to create unforgettable memories.
Use the natural inclusion of your message into this powerful story for messages of encouragement, celebration, motivation, or praise… whatever you choose will become a treasured memory!
Both the children and I have been keeping track of the progress as the book has come to life, and they absolutely love the whole idea. It would make the perfect gift for a child in your life, for a special occasion, or simply to give them something that little bit different, and it's a book you can keep and treasure. We have fallen in love with Kiki, the quirky, funny and curious little bird, and the beautiful illustrations and themes really bring her adventures and the story to life as she travels all over the world to bring the story to life, in a way that is personal to the owner of that book.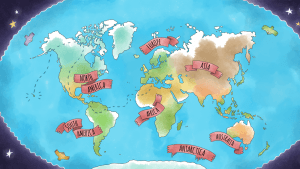 I know how much hard work and love has gone into this project and I feel privileged to be able to share it with you, and we would love it if as many people as possible could help get it "off the ground" so to speak. I am personally very passionate about reading and the importance of encouraging children to love books and reading, this is a perfect way to help with that. We are proud to support Message in A Bottle and you can too by clicking on the KickStarter link and choosing the options available. There are different options and you can be kept up to date on the project's progress. When we say we love something, we mean it, we really think you will too.