Although many of the classic American dishes can be calorific and decadent – just imagine the menu of an American diner – the amazing taste of many of the country's iconic dishes cannot be disputed. Taste is plentiful and the word 'moreish' was made for American food. This collaborative post may make you hungry, you have been warned… 😉
Adding a dash of 'USA' to your dining repertoire can spice things up for you and the family, breaking up the monotony of tried-and-tested dishes. Here's a list of some excellent breakfast, lunch, dinner and dessert ideas from America, as well as a selection of local dishes that are a very 'different' experience.
Breakfast
Waffles. Waffles. Waffles. The perfect combination of sweet and savoury in a delicious breakfast dish. This apple cinnamon waffle recipe from Mr Breakfast is sure to tickle the taste buds.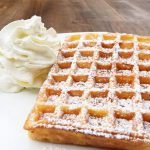 Eggs are another USA-staple but come with some lingo that might not immediately make sense. Have you heard of eggs 'over easy' and 'sunny side up'? Over easy means that you fry the egg on both sides – turning the egg over ('over') while keeping the egg runny ('easy'). Sunny side up is simply a fried egg, no flipping required.
When most people think of an American breakfast, they're imaging pancakes. Stacked high and drizzled in syrup! Although usually a sweet dish, many have given this breakfast option a savoury twist, or a mix of the two as with pancakes with bacon and syrup. With so many options to choose from, check out these easy pancake recipes from MyGreatRecipes.
Lunch
A staple in the UK as well as the USA, burgers and fries are a stodgy and flavoursome lunch that requires a little 'getting messy'. You're sure to have sauce all over your mouth and hands if you've made it right.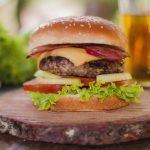 Martha Stewart has a great selection of burgers to give a try, including hamburgers, chicken burgers, turkey burgers, chickpea burgers and one that is sure to be a crowd-pleaser – cheese stuffed burgers.
As a lighter lunch option, Waldorf salad is a great dish. It is named after the Waldorf-Astoria Hotel in New York, where it was first served, and includes red apples, celery and chopped nuts among other greens. Try this Betty Crocker recipe.
For something homely and simple to make, try tomato soup and grilled cheese. Here, you combine the lightness of tomato soup with the naughtiness of carbs and fromage with the grilled cheese toasted sandwich.
Dinner
For the main event, you can't go wrong with some barbecue ribs (for the meat lovers). The stickier, the better! This recipe from Jamie Oliver has a flavoursome and hot marinade that seeps into the meat to provide something truly indulgent. Just be sure to have some wet wipes to hand for the aftermath of this meal…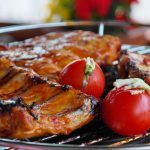 Sweet chilli dogs are another crowd-pleaser, with only five simple ingredients to remember:
Sausages (sweet chilli if available)
Onions (red or white)
Sweet chilli sauce
Tomato purée
Hot dog buns
Stepping away from meat, seafood fans will love crab cakes. Food and Wine have a Baltimore-style crab cake recipe that keeps the ingredients to a pared down version of the classic American crab cake.
Dessert
Try mixing up your desserts with one of these USA-inspired options. First up in s'mores, just because of their yumminess and simplicity. BBC Good Food have a malt hot chocolate s'mores recipe that takes just five minutes to prepare and cook.
Next is a good old American Key lime pie. A famous recipe in Florida, it is made with the local Key lime variety. Although the season is short for this lime, Delia Smith has put together a version that considers other varieties that still give the American flavour that this recipe is famed for.
Last, but certainly not least, is cookies. This biscuit is loved by all and is super easy to make, leaving you more time to focus on other more time-consuming courses. Delicious as they are, why not try raw cookie dough as a treat? There's several 'safe' raw options that will please the palettes of your friends and family.
Dare to Try
Some dishes based in America might take a little bravery to try, such as:
Biscuits and gravy: soft dough biscuits covered in sausage gravy, made from the drippings of cooked pork sausage with flour, milk and other meats – sausage, bacon, ground beef etc.
Chitterlings: Commonly referred to as 'chitlins', this dish is essentially boiled pig intestines…
Grits: A sloppy corn or Hominy porridge that is frequently used as a breakfast food. Adding in cheese is a common recipe.
What's your favourite taste of the USA food?