I wash my hands a lot. I work with small children, which often means I get messy. My hands are often very dry and sore at the end of the day, and I have a mild form of psoriasis which means they get easily irritated and can take a while to heal.
I have "fancy" handcreams, that I like, but reality is, I need a proper cream that does the job of keeping my hands moisturized and less sore, as well as helping to heal them when they need it.
So when I was sent a big bottle of DermaSalve to see if it would help, I was excited to try it to see if it would help improve things.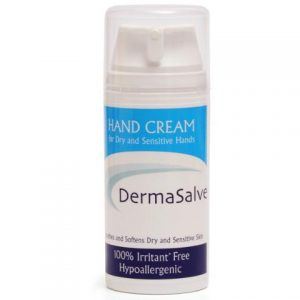 DermaSalve hand cream has been specially formulated by doctors to help keep skin looking and feeling healthy. It has been designed to contain no known irritants so is ideal for dry skin conditions and eczema but is gentle enough to be used every day.
It's been formulated to:
Softens and soothes dry and sensitive hands
Ideal for eczema on hands
Gentle enough to be used every day
Light and non-greasy
Moisturising effect lasts for up to half a day
Contains no potential irritants as listed in the EU Cosmetics Directive.
I have to say, so far I have been incredibly impressed. It's a very cool and soothing cream/salve. When you apply it almost feels a little watery, which can feel a bit strange but it absorbs beautifully, and my hands immediately felt less dry and sore. I love the fact that it's ingredient list is simple and it has been formulated by medical professionals with people with sore skin conditions in mind.
Using it regularly has really made a big difference to my skin. A little goes a long way, and the bottle is a good size, so it's great value for money. It's an easy to use pump, and you can get smaller size bottles to pop in your work bag if you need to take it with you. Or on holiday.
If you have sore, dry skin on your hands and suffer with conditions like dermatitis, eczema, or psoriasis, I would definitely recommend you try this. They also have a wide range of other treatments and laundry aids and supplements, including creams and lotions for babies with skin issues. Worth taking a look, for your skincare needs.
*We were very kindly sent some items to try, but all opinions are our own*