I am a HUGE James Patterson fan. Have been since I was a teenager (yes, I am old!) and I have loved reading his books, and have some firm favorites that I have enjoyed.
I had NO IDEA he wrote children's books, I am ashamed to admit. However, once we realized that he has written a whole series of books, we decided we wanted to get stuck into them, as a family, for the tweenager to enjoy and and we also have thoroughly enjoyed watching the movie from his series The Middle School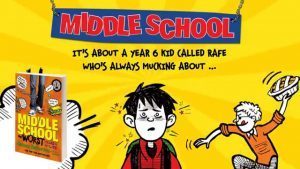 Emily has been working her way through the Middle School books (and I have been waiting impatiently for her to finish so I can read them too, to see what they are like, because I am nosy) and has really enjoyed them. It's nice to find a book aimed at her age group, with a boy as the central character, for a change, to be honest, and she's loved the books. We have been meeting and getting to know Rafe and his life at school and at home, after something tragic strikes his family.
"Rafe Khatchadorian has enough problems at home without throwing his first year of middle school into the mix. Luckily, he's got an ace plan for the best year ever, if only he can pull it off. Using his epic imagination and with a little help from his scheming best friend Leo, he tries to break every rule in his school's oppressive Code of Conduct. But when Rafe's game starts to catch up with him and Principal Dwight fights back, he'll have to decide if winning is all that matters, or if he's finally ready to face the rules, bullies, and truths he's been avoiding."
We also really enjoyed the movie. We had a mum/dad/tweenager movie night, with popcorn and sweets and kept up with Rafe as he tries to figure out life, and deal with a rather strict school and all that it throws at him.
Emily (the tweenager) says this about the books and the movie:
"The thing I like about the movie is the part when Rafe makes all the coloured water spout out of the ceiling because everyone is having so much fun and I would have loved to have been there to actually see it happen, another thing I like about the movie is Rafe's cartoon of the principal when he bans going to the toilet in school.
I like the way the author tells the story because he tells it like we are his brand new friend and he can trust us with what he is saying. I also like him because he his funny and knows how to entertain people. I like the bit in the book were Rafe thinks school is a prison and his diagram of what it might of looked liken and it was soooo funny. I also like the way you see how Rafe is learning to cope with something awful that has happened to his family, which is sad but also makes it a really interesting story.
It's funny to think that an author that has written so many books aimed at adults, in a generally darker genre, has hit on something with his books for kids and he writes with humour and also a real sense of understanding of what it's like to the kid in the story dealing with life's challenges. It's clever, and lifelike and we really have found a whole new set of books we love, and we are looking forward to enjoying more of them, and they are not just mum approved but kid approved too…If you haven't read then we think you should. Just don't tell my tweenager, because it's apparently uncool for your mum to enjoy and like things that she does… 😉
Middle School is currently available on Netflix.
I am a member of the Mumsnet Bloggers Panel, a group of parent bloggers who have volunteered to review products, services, events and brands for Mumsnet. I was given a voucher in return for this post. I have editorial control and retain full editorial integrity.