I sometimes feel that in the madness of life, and also with the little bit of extra input her brother needs, that my tweenager occasionally feels a bit left out, or neglected. She's generally quite easy going (well, except when those tweenage hormones flare, but we are learning to cope with those) and we have a good relationship, and we were very close before her brother arrived, but he's needed a lot of my time and energy, and I have been very tired and I know she hasn't always got the "best" of me and she needs her mum time, too. Now things with her brother are much easier and we are all getting some sleep (I have probably jinxed that now, haven't I??) I am trying to make sure she and I get some time together, where it's just her and me. I am aware that she is going to want to be around her mum less, the older she gets and the more her life flows into adolescence and she finds her own feet into adulthood, so I am determined to grab the time we have now and spend it with her.
So, we have instituted Mum & Me dates.
Once a month, she and I have some time out, together, just us. No boys allowed and we go and do something fun or interesting that we both want to do, and spend time together.
This month we went out for dinner and to watch a movie (Beauty and the Beast, actually, more on my thoughts on THAT, in another post).
She chose a place she likes to go to eat, and thoroughly enjoyed a grilled cheese sandwich and we squabbled over a huge plate of fries and we then really enjoyed the movie, although she did find the beginning a little scary, but soon relaxed.
I really am conscious that time really is slipping through my fingers (don't get me started on the ABBA song that plays in my head when I say that, and I sob into baby photos) and that she is growing up so fast, so I do want to spend time with her, and also make up to her that she hasn't always had the in the best shape mum as we dealt with her brother's SPD issues and sleep deprivation. So far, so good. She was really happy and is already asking what we are doing next month… Spending time with her is precious and I want to make the most of it, whilst she still wants to be around her mum, and it's not totally uncool to be seen with me… 😉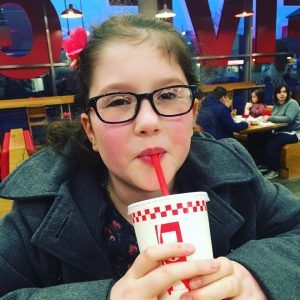 My beautiful girl…