Christmas is coming, already my social media feed is full of Christmas food, décor, gift ideas, and fun. I am slowly working up to buying all the presents, meal planning, making sure we have lights for the tree, finding the advent calendars, hiding surprises and getting in the Christmas mood.
My children love to craft. I am not that much of a crafter, but I have learned to go with their enthusiasm and get stuck in, and whilst now they are older they can generally get on with things themselves, it's fun to get stuck in to creating some pretty items for Christmas.
I do cheerfully admit to cheating though, and will happily use all the tools at my disposal to make pretty crafts that look like I know what I am doing…
This time of year, with Christmas holidays coming, it's the perfect excuse to pull out the sparkle and make snowflakes, snowmen, Christmas angels and stars, and all things pretty to festoon around the house. My children love making Christmas themed things so we dig out the glue, the glitter, and we have hours of fun making things. Because I also run toddler groups, where we also make Christmassy crafts, I like to test out what I plan to make with my children first, to make sure they actually work.
This year we will be making snowflakes, and Christmas angels and we are going to use Ora paper towels (link here) as our base material. Because Ora paper towels are already pre-cut into a round shape, it takes away some of the work of cutting out endless circles you need, and their paper towels are durable and strong so perfect for Christmas crafty creations.
The snowflakes are easy, and simply involve folding your paper circle into quarters then folding it again, and cutting and snipping shapes out of it (if you are doing this with little children, they will need help and supervision with the scissors, don't forget) and then unfolding them, and then getting them as sparkly and glittery as possible with glue and glitter. Each flake is unique and looks so pretty and can be hung on a Christmas tree or put in a window, or even stuck to homemade Christmas cards.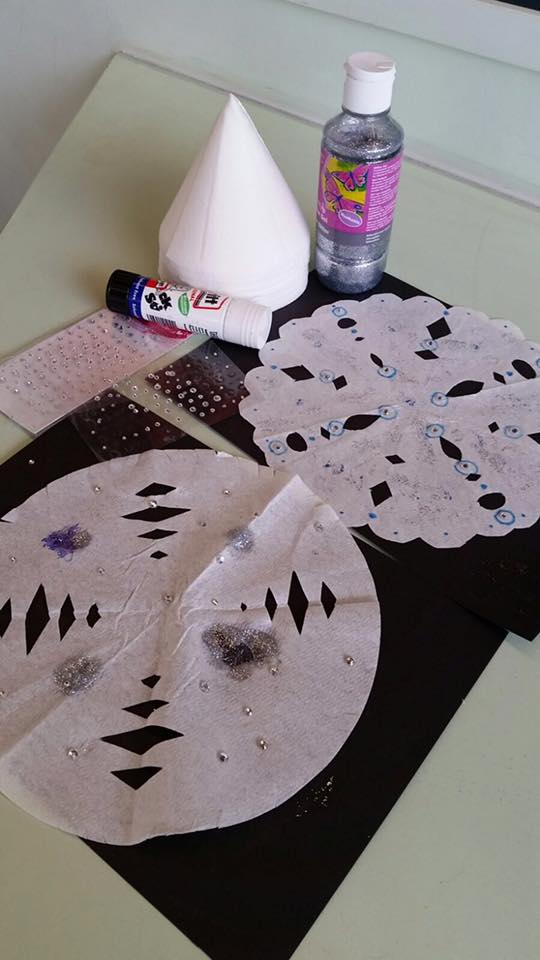 Snow angels are a little bit more fiddly but work really well and are a fun craft to make
You will need:
Glue, scissors, Ora paper towel, silver and gold glitter, and white card.
You take one circle of Ora paper towel and fold it in half then half again, and carefully cut along the rounded edge to create a scallop effect. Then you unfold the circle, and cut it into the shape below.
You will need to cut out a smaller card circle for the angel's head/face.
Then you assemble the angel using glue, and once you have your angel shape, you can decorate it with silver or gold glitter (or both, make it super sparkly)
These are so simple but effective and you can make as many as you want, or make one or two and make them very ornate and pretty with glitter or sparkly sequins. My children love making these and they are always popular at our toddle group too…
Ora is available to buy at Tesco and Asda as well as on-line at Ocado.com.  The single stack Ora retails at £1.90.