Easter is coming. I am rather scared at how fast the year is going already, but Easter is on it's way, and I have started thinking about Easter eggs and treats for the children.
I live with two boys with food allergies. My bigger boy, the husband has a cows milk allergy and so does my smaller boy. They can't eat anything that contains cows milk, other than a small amount of butter, it makes them ill if they do. It's something both of them have learned to live with, and we manage day to day and adapt to.
When we first got married and even when Matthew was small, finding Easter treats was tricky, expensive and a lot of hassle and I often ended up getting them both pretty boring things for Easter chocolate gifts.
Thankfully now there are SO many more options and so many brands make chocolate treats that don't contain cows milk that are safe for people with allergies to enjoy and they taste nice. It's taken a while for this to happen and there are still some chocolates out there that don't make our top list of choices.
One brand we've found that works for us, and tastes good, and easy to get hold of in the shops (which also helps) is Moo Free.
They make good chocolate treats that are approved by my very picky and allergic boys which means I approve too.
"Have we got some chocolate treats for you? Whether you want gluten free, soya free or dairy free chocolate, vegan chocolate, organic chocolate or just simply delicious chocolates then you will find them all here. Feast your eyes on our wonderful delights below and join the amazing, chocolate world of Moo Free!
They make a whole range of chocolate treats for every day enjoyment, and also for special occasions and they are perfect for you or someone in your life who cannot eat cows milk products. They are also soya free which is amazing, because a lot of dairy free products contain soya, which is also a major allergen for many people.
This year I am making sure the boys get good Easter eggs they can enjoy, and because we want to share the joy with our readers, we also have three chocolate Easter Eggs from Moo Free to giveaway to three readers and you can choose between
EASTER BUNNYCOMB EGG
A delicious, dairy free Easter egg infused with crunchy pieces of vegan friendly and gluten free honeycomb toffee.
ORGANIC CHEEKY ORANGE EASTER EGG
Our multi-award winning, dairy free chocolate Easter eggs are also available in a delicious, Cheeky Orange flavour.
ORIGINAL ORGANIC EASTER EGG
This dairy free, organic rice milk chocolate Easter egg is simply delicious.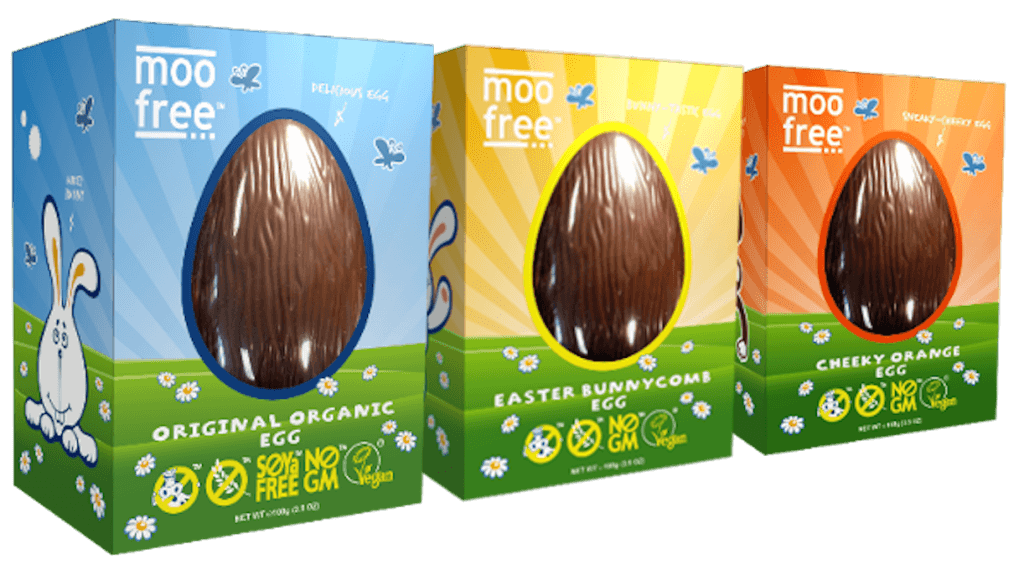 All you need to do is share in the comment section which one you would like to choose and then hop across to the link and complete the entry requirements.
This giveaway ends on the 25th March 2018
Terms & Conditions
Open to UK residents only
Over 16 entrants only
No cash prize alternative.
Three winners will be chosen and will be given a choice of one egg, which will be sent to them
All entrants must comply with the requirements. Spam entries will be deleted.
*this is a collaborative post*
The winners are Jane Burton, Louise Kettles and Kate Blackwood