Just like that, your kids grow up. One minute you are changing their nappies and worrying that they will never be potty trained and the next minute you are dealing with sending them off to secondary school, letting them spread their wings and go off without you and face the world with less of your input. One minute you are trying to decide if it's ok to let them leave the house wearing a dressing up costume instead of proper clothes and the next minute you are looking at getting them their own phones, with the excuse that they need it to keep in touch with you, when really, they want to just be able to chat to their mates and not their mums.
One minute they need you a lot, and the next minute it seems like you have to let them go, and the gap seems to get wider.
Ok, I really am feeling old. emotional and having a "where did my baby go" bender, now aren't I? I will be playing that sad Abba song shortly and crying over baby Facebook photos in a minute…
Where is this rambling post going?
Nowhere really.
However, my girl has gone somewhere. Her first big trip away, on a coach, then a ferry, and she's gone for 5 days. The house is going to feel very odd without her, and I am going to miss my sidekick, with her eye rolling, and sarcasm and reminding me that she has far better fashion sense than me. She's so grown up, and so responsible, but I still can't help thinking she was my baby only yesterday.
That's her "my mother is INSISTING on taking a photo and she's going to make me late" annoyed Tween face…
She climbed on the bus, waved goodbye and didn't bat an eye when she left. She packed her own cases, she made me check she had all the right things for the week, and she suddenly seems ferociously grown up. I think this means I have done an ok job, but I am having a wobble about it. She's ready to start spreading her wings and flying, I am not quite there yet… I will be ok, and she will have a brilliant time, but I am allowed to have a wobble, about it all.
I won't tell her that I did feel a few tears coming on as I walked into her room to put some laundry in there, and then remembered she won't be there for a few days. I won't tell her that it was probably weird to go to check on her before I go to bed and she won't be there. She will be back before we know it, and we will be glad.
Her cat is missing her, today. But not as much as me.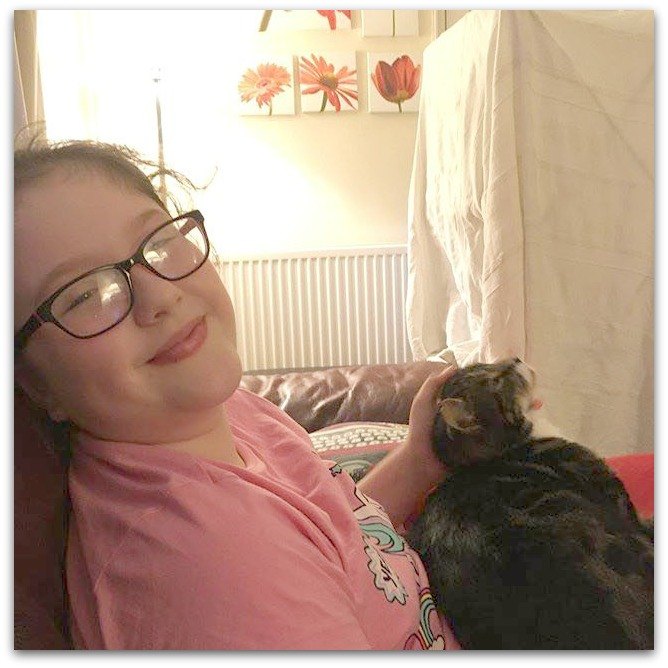 Hums the lyrics to Slipping through my fingers, by Abba, spams Facebook with old baby photos, don't mind me…