Ah, children. They are amazing aren't they? They bring us joy, love, and they keep us on our toes, daily.
They also bring us dirty laundry. A lot of dirty laundry. In fact, an unending supply of it.
Also, if you think that after toddler hood, that your kids will become cleaner and you will have less laundry, I am going to break it to you gently now, that IT GETS WORSE. Sorry about that.
I have two school age children and they get FILTHY. I do not know how, or why. But what I do know is that every week, I tackle various loads of laundry, and do my best to get things looking vaguely nice and clean again.
We have dance kit, PE kit, swimming kit, Guide and Cubs kit, swimming costumes and towels (that can get really damp and rather disgusting when they are left to fester in the swimming bag the children should have emptied when they get home, but that often gets forgotten) and we have school shirts, jumpers, trousers, socks and odd other bits to add to the weekly pile, along with all the other laundry.
I joke that I think my tweenager uses her school shirts to clean things at school, and that my son deliberately plays football mainly on his knees, and that I can tell what was had for lunch by the stains on various items that come home to be dealt with.
So what is a mum to do? You want to send your kids out looking clean and presentable, and make clothes last as long as possible? My own mum used to make my brother scrub his white sport socks or spend hours soaking them in a bucket, but I don't have the time or energy to be doing that.
Enter ACE to save my day and clean up stains and make clothes look clean again!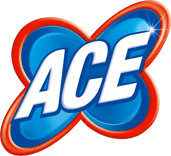 ACE say:
At ACE, we take a science-based approach to environmental sustainability. When it comes to doing your laundry, the most important things that reduce the impact on the environment are:
Washing at lower temperatures
Using concentrated products
Using the right amount of product
Washing with full loads
In particular, washing at lower temperatures is the single most important thing we can do to lower our C02 emissions while doing our laundry.
ACE keeps garments bright, robust and clean meaning clothes last for longer
Keep those colours bright and fresh with ACE for Colours
Tackle germs, grease and stubborn stains with ACE Stain Remover
This is what I need to hear. Whilst I am keen to kids my kids clothes looking clean, I am also very aware that as a family what we use for laundry products can make an impact on the world around us, and the environment so I like idea of something that more sustainable but still shifts stains.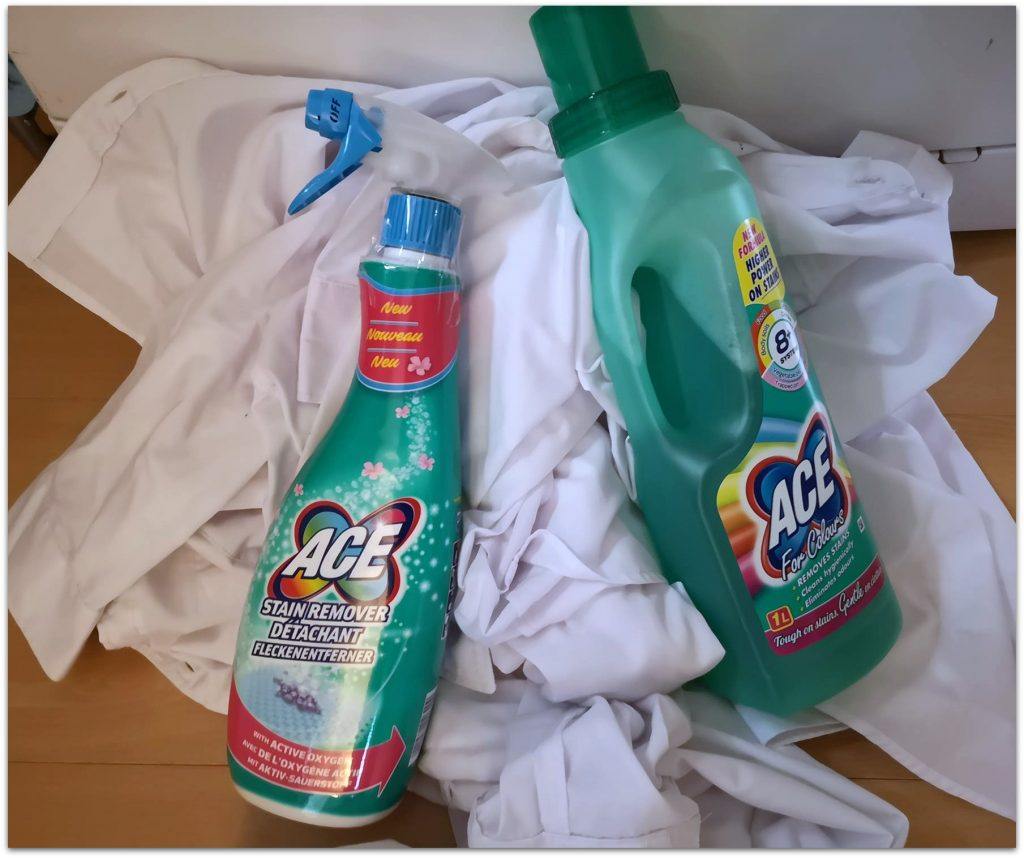 Armed and ready to sort those grubby school shirts. Collars and cuffs and sleeves get very grubby.
ACE is very satisfying to use, because when you spray or apply a little of the solution to stains, it fizzes up slightly. I like to see a product in action so it's quite pleasing in a weird way.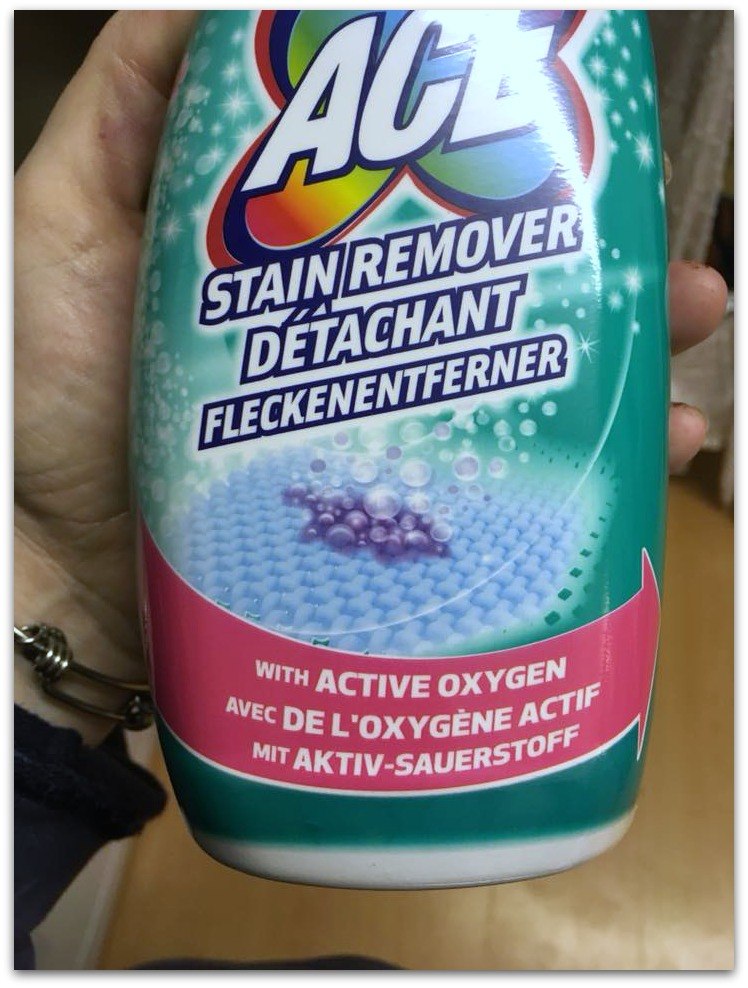 The spray with active oxygen really does help to shift and tackle the tough stains (pasta sauce, colouring pen, mud stains and other mysterious and unnamed ones)
I think the best part about ACE is that you can use it on coloured items without worrying about colours being "bleached" or faded, which is great because my kids don't wear all white and school uniform is expensive.
It really does work, too, which is what I know you want to know. Using our normal laundry cycle, stains and odours are eradicated, and because it's easy to use, and a little goes a long way, it works as part of our weekly laundry routine. Even my tweenager's school shirts come out looking clean, fresh and white.
I would say that ACE makes laundry a bit easier, and that is definitely what this mum needs. (and the husband uses it too for his work shirts, cycle gear and running clothes, too)
I am all for things that make life easier. Motherhood may bring fun and dirty laundry, but at least it's manageable with ACE!
This post is an entry for the BritMums #ACEforSchool Challenge, sponsored by ACE. Get help for all kinds of stains with the ACEStain Helper. http://www.acecleanuk.co.uk/ or to buy head to your local Tesco's, Morrison's, Waitrose or Sainsbury's.