*This is a review post, we were kindly sent these books to review, but all opinions are our own*
I am always on the look out for inspiring and interesting books for my kids to read, and enjoy. Sometimes that can hard, meeting their level of reading abilty and also finding books that appeal to them.
So, the Clever Tykes Story books really appealed to me, and I thought they might be a great read for my small boy, at the reading level and stage he is at. We have struggled recently to get him to enjoy reading, and to pick up a book and immerse himself in it, and for me, encouraging reading is really important, so I was hoping he would find these books enjoyable as well as inspiring.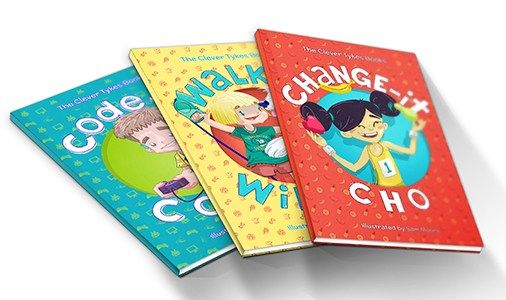 The Clever Tykes storybooks and accompanying resources are suitable for children ages 6-9. They inspire positivity, innovation, independence, resilience and resourcefulness and are read all over the world, at home and in school.
The stories follow four different protagonists as they each realise that there is something they are especially good at or passionate about, and they set about making this into their own venture. (You can read more here about why these books are a great way to encourage and inspire kids and what Clever Tykes is working towards)
My small boy has been a bit reluctant to read, but recently has become much more keen, and these books are great for encouraging reading, and he's found them easy and enjoyable. Matthew says he likes the stories because they make him feel good and make him smile, and he really likes the way the children in the books go out and do things that are clever and interesting and how they work hard to get what they want and learn. These books are designed to be real life and inspiring, and help children to see that they can go beyond and do things that they want to do, and that they are special and amazing.
I also read them, because I like to read what he's reading, and found them very well written, aiming at children aged 4-8 to either be read to, or to read themselves. We did a mix of reading the books to Matthew and also encouraging him to read them himself. Because they are well written they are easy for him to read, and get into and enjoy.
There are four books in the series and each book is different with a different theme around children using their skills to achieve what they want and learning as they go. The inspirational theme runs through all the books and each story ends in a way that helps the reader to learn they can also do what they put their mind to.
The books are also great for reading in school, and there is a teachers guide available as well as some printable colouring sheets too.
This is definitely a series of books we would recommend if you are looking for something to help inspire your young reader and help them to learn and use their imaginations. They would also make a good gift for someone for a birthday or christmas too!
Happy reading kid = happy mum!