*this is a review post, we were kindly sent some items to review and share about but all opinions are my own*
Swimming has always been something that I have felt is an important life skill. Before I even had children I knew that I wanted them to learn to swim, as early as possible, and to enjoy swimming. I loved swimming as a child and teenager, and swam for my school teams, and even now as an adult it's a favourite way to exercise for me, so to get my kids to enjoy swimming was something I was determined to do. Swimming is something most people can do, and it can be such a fun way to spend time as a family, as well as a good way to keep fit.
With my big girl, it was easy. She literally took to swimming like a duck to water, and loves it and is very good, and swims twice a week at a local swim training club. She's always enjoyed being in the water and we took her as a baby to swimming classes and she never looked back.
The boy, however struggled from the start of his life with water. He HATED swimming lessons when he was a baby and toddler and would scream until he was sick. We now know that his sensory issues meant that being in a noisy, warm, pool with water going in his face and on his body and in his ears was just too much for him to manage.
It has taken a long time and a lot of patience and gentle coaching to get him to a place where he would even go in the pool without clinging to me, crying. Getting him to let go and manage the water, and to start to move in the water was a big step. He has slowly developed swimming skills, and with time and a lot of work both on his part to learn to accept the water, and on our part to help him, he LOVES swimming. He asks to go, and is so happy and excited when we take him to the pool or go somewhere he can swim in the holidays. He is a bit of a hero, I think, to have overcome his fears and anxiety of swimming. There were times when I thought we wouldn't ever be able to get him to be happy in water, it's amazing to see him now and how far he has come.
So, it seems fitting that when we go swimming he is kitted out in some rather fabulous DC Superheroes swimming gear from Zoggs.
Zoggs are a brand I have known and trusted for a long time to make reliable, good quality swimming costumes, and swimming accessories to help with the practical side of swimming but to also make it fun. Their adult costumes are stylish and comfortable, and well fitting and as a mum who has had two babies and gained and lost weight over the years, I love their range, helping me to feel confident to go in the pool.
Their DC Superheroes range is brilliant, and they have a fantastic selection of costumes and swimming accessories designed around all the DC Superheroes characters. Fun, but also very practical.
What kid doesn't feel good leaping into the water with a Batman swimming costume to give them a boost of confidence or splashing about learning to swear wearing WonderWoman's logo? Maybe I am giant kid at heart myself, but even at my age, i love a bit of superhero to inspire me.
They have everything from goggles (and their holographic superhero goggles are, frankly, super cool) to costumes, to floats and swimming vests, and they have adult and children's ranges too. You can find what you want at Zoggs or Everyone Active and there is something for every family member who wants to swim like a superhero!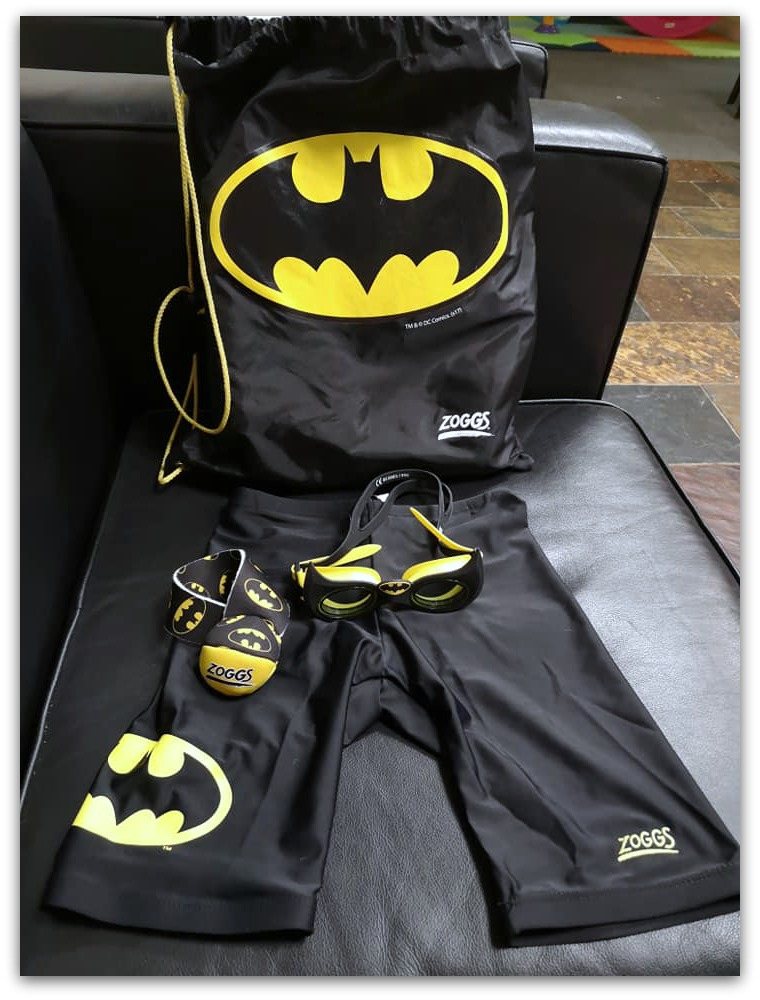 Who wouldn't want to go swimming with kit like this? I am pretty jealous we didn't have anything like this when I was younger.
Like all Zoggs swimwear, their Superheroes range is well made, durable, beautifully designed to be streamlined and efficient in the water, and comfortable, and washes well. Their goggles are always the best we find for swimming.
It makes me so happy to see my boy loving swimming, after such a long time getting to a place where he could cope. Kitted out like a superhero, he's proud and pleased. I think he wears it well, don't you?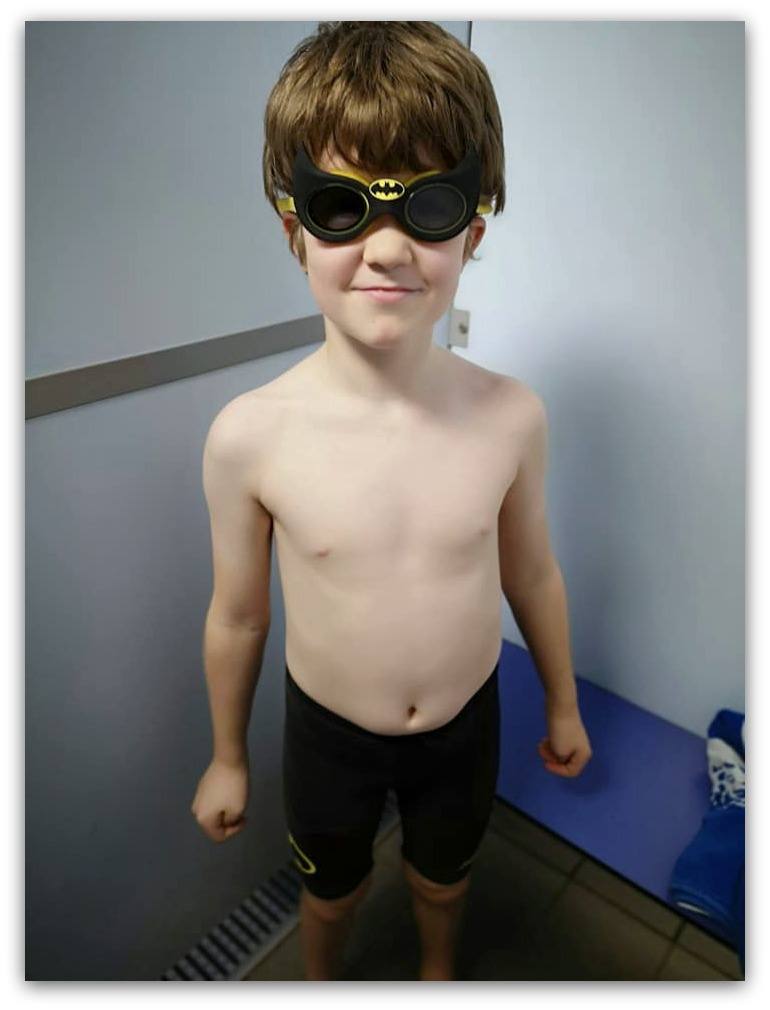 Because every swimming superhero needs to look stylish, don't they?