*this is a review post. We were kindly sent some items for the cats to give their opinion on*
This is a post about cat food. We have two cats, and their food and what we feed them is important. Both cats would, if allowed eat human food, but as we all know, most human food isn't always that good for cats, much to their dismay. But we try to feed them good food that is nutritionally balanced and that works for their tummies and taste buds.
Layla, has what we call, a rather sensitive tummy. If you follow us on social media, you may have heard me complain about cleaning out her litter tray, a somewhat less than delightful job. Certain cat foods and things she likes to eat can, let's just say, make what comes out of her furry bottom, less than pleasant to deal with. She also, ahem, can be a little, shall we say, windy, too.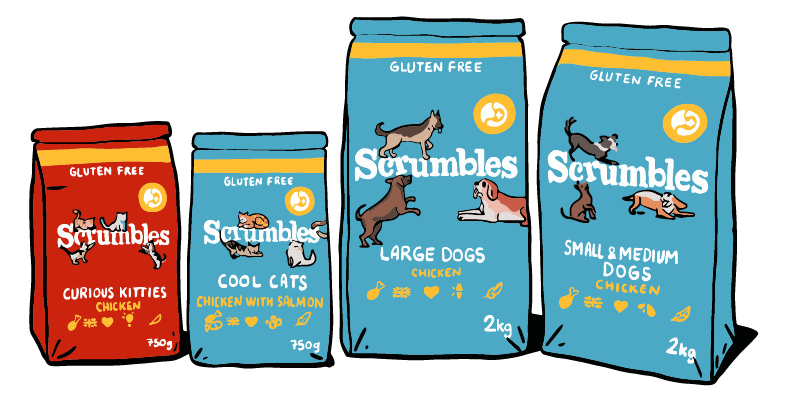 Scrumbles may have the answer for her, and us.
They make gluten free pet food that has been carefully created to suit the digestive needs of dogs, and in our case cats…
Smudge and Boo are our world and like any pet parent, we want to give them the best pet food to help them live adventurous long lives. We'd tried various foods over the years but struggled with upset tummies and poor quality poos. An affordable, good quality pet food that our pets loved seemed an impossible feat.
It doesn't matter if you're more dog or more cat – or maybe you're a lover of all furry things – we salute you. We believe that there's nothing better than a life spent with a furry companion. And the longer that life can be, the better, which starts with good nutrition.
We'd struggled with unattractive, smelly stools in the past but when we rescued Boo, we just couldn't shake them. A trip to the vets proved helpful (and expensive). We were prescribed a probiotic paste to calm her sensitive stomach and improve her digestion. It worked wonders and the Scrumbles adventure began to put happy guts at the forefront.
It's easy to see why when nearly all the options out there have ingredient lists longer than your vet's bill and shady things – like non-named meat sources or pea protein – that you don't want to find in your pets' food. We created Scrumbles as we wanted to create something that was better for cats and dogs.
We offer a range of delicious gut-friendly, hypoallergenic cat and food that are all natural with zero nasties and a firm wiggle of approval from our chief tasters Smudge and Boo.
You can find us stocked in lovely independent pet shops, online retailers like Ocado, Fetch and, of course, through our online store.
This sounds great and just what might keep our kitties digestive systems in better order and make Layla less, erm, fragrant.
The food is very reasonably priced compared to other cat foods, and I like the idea of a pet food created by real pet owners.
But what did the cats think?
Unfortunately Layla refused to cooperate for the camera (never work with children and animals, they said, you'd think I'd know that by now??) but she has tucked in very enthusiastically to the salmon Scrumbles and happily ate them instead of her regular dry cat food with no complaints (and she's pretty picky, and vocal when she doesn't approve of something)
Jasper however, motivated by food, was happy to post, sort of to inspect the bag and demo his keenness to eat…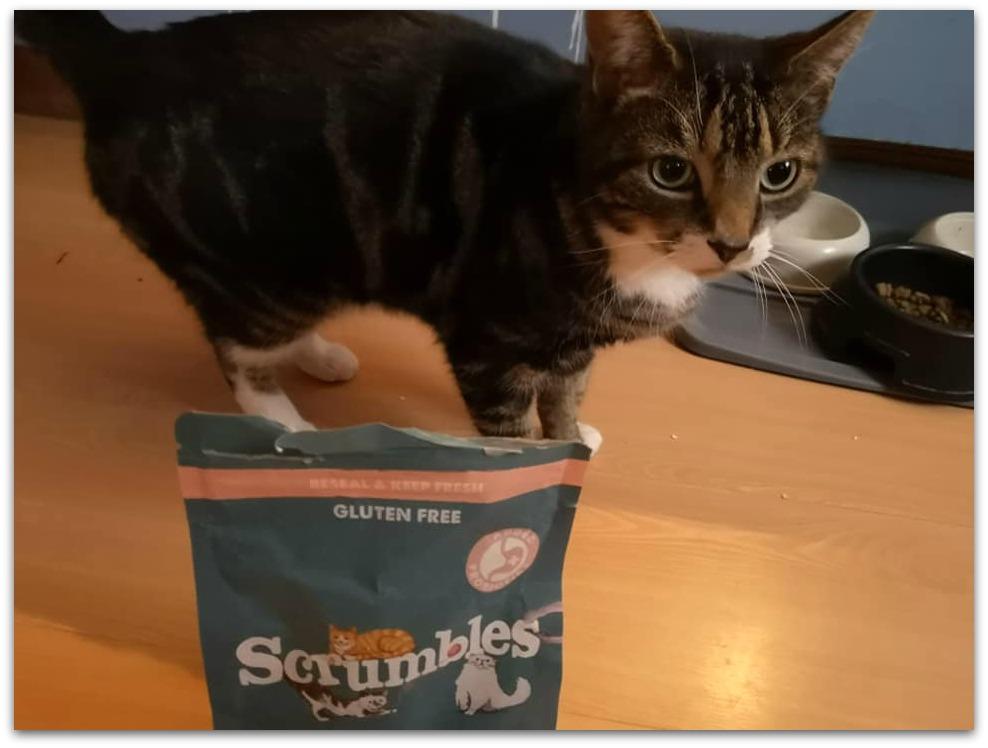 Why is my human making look at this bag of food. When is she just going to feed me?? (please note that I didn't clean the kitchen floor before I took this photo, we keep it real round here?) I have to say, that although I didn't taste the food, it smells much nicer than the stuff we normally use, and it really did go down well with the cats, which pretty much means it's a winner. Also, being gluten free, it's a good product for someone with coeliacs disease. Not to eat, of course, but to prevent cross contamination with gluten, that is normally found in other cat foods. Handy.
And is Layla less farty? I think so, I have definitely noticed an improvement, so it's clearly doing a good job of helping her digestive system, and things are much less smelly.
So cat and human approved. I think that means we recommend them. If they could talk, I am pretty sure the cats would say they are pawsome, as long as I stop trying to take photos of them while they eat! 😉