*This is a review post. We were kindly sent an item to review and share with our readers*
As a family, we love trying out new things, and we are a bit geeky and we love technology. So we were very excited to meet  Artie the drawing robot. We are very interested in coding, and Artie is a great learning and creative tool, as well as being rather fun to play and work with.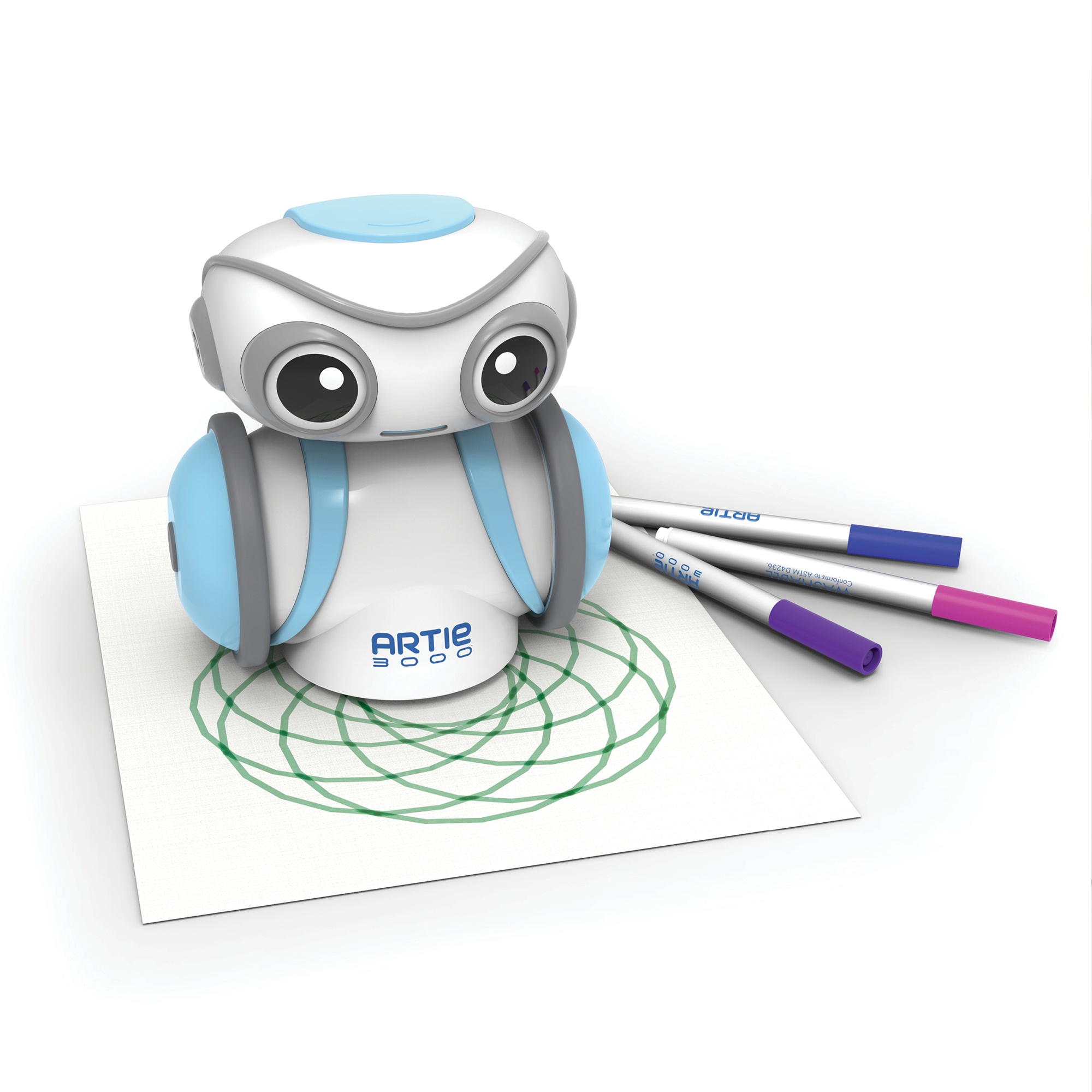 Building on the enormous success of Botley The Coding Robot in 2018, Learning Resources have introduced Artie 3000™ in 2019. Artie™ is the new coding and drawing robot that puts children in control.
Artie has a built-in Wifi server so can be used anywhere without requiring an internet connection. The easy-to-use drag and drop programming can be used on a Mac, PC, tablet or smartphone and offers four modes of play; pre-programmed shapes, games, art for colouring and freeform coding.
With 360-degree movement – tell Artie to turn right or left, forward or backward or spin in any direction. Four swappable, washable coloured pens are included and the innovative drawing simulator software allows coders to test their ideas before setting Artie down on paper.
The product's unique bridging of technology and coding with art and design saw Artie noted as one of the most innovative products at this year's London Toy Fair, scooping a prestigious London Toy Fair Hero Award at the event.
Artie is pretty easy to set up, and comes with instructions and all the kit you need to get him going and get creative. We were very excited when he arrived, and couldn't wait to get him working and see what he could do.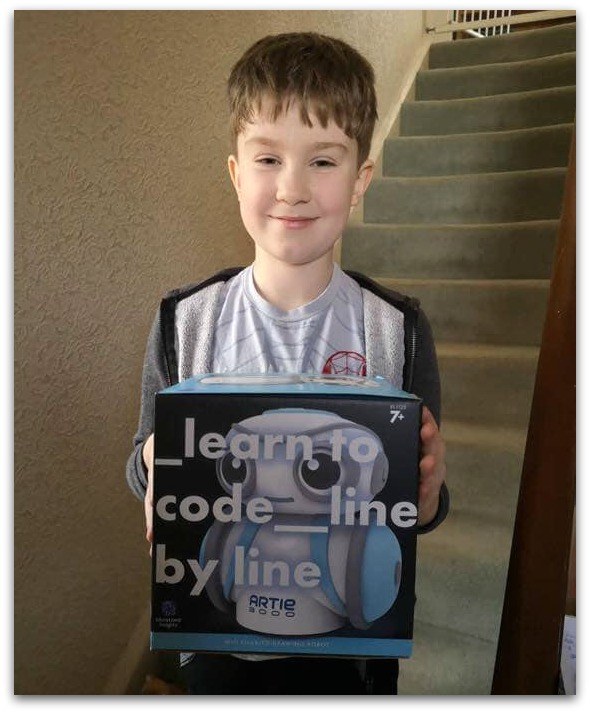 Coding is a really important part of learning these days, and making it fun and interesting to kids is vital. Artie is a really clever way to encourage that. The husband is an engineer so he was just as excited as the boy was to get him set up and try him out.
It does need a little adult help, but as a piece of kit, he's an excellent piece of kit, and he's incredibly well designed and fun to use. Syncing him to your device or laptop works well and we used him with our iPad, and found it pretty simple to do.
I think for us it was hard to choose what we enjoy most about using Artie. The pre programmed art he can create is fun, but it's also fun to set him up to do free form work. He kept the boy busy for a good hour or two, getting creative, and using code to make him draw some fun pictures. For me, it was interesting to see how the technology works (I am old, and I am not as good at coding, and getting how it works, as my kids are) He is very sturdy, and well designed for kids to use, as well as adults.

The beauty of Artie is that once he is set up, the boy can play with him, and enjoy working with him, and he doesn't need that much input for me, and he has played with him lots, and he's learning whilst he plays. Artie makes an excellent educational resource, and as we are homeschooling this year, he is now a great ongoing tool for us to use.
We think he is rather clever. He would make a fantastic gift for someone who loves gadgets and coding, and there are lots of options and activities you can do with him. He's very much kid and mum approved, and we think you will love him too.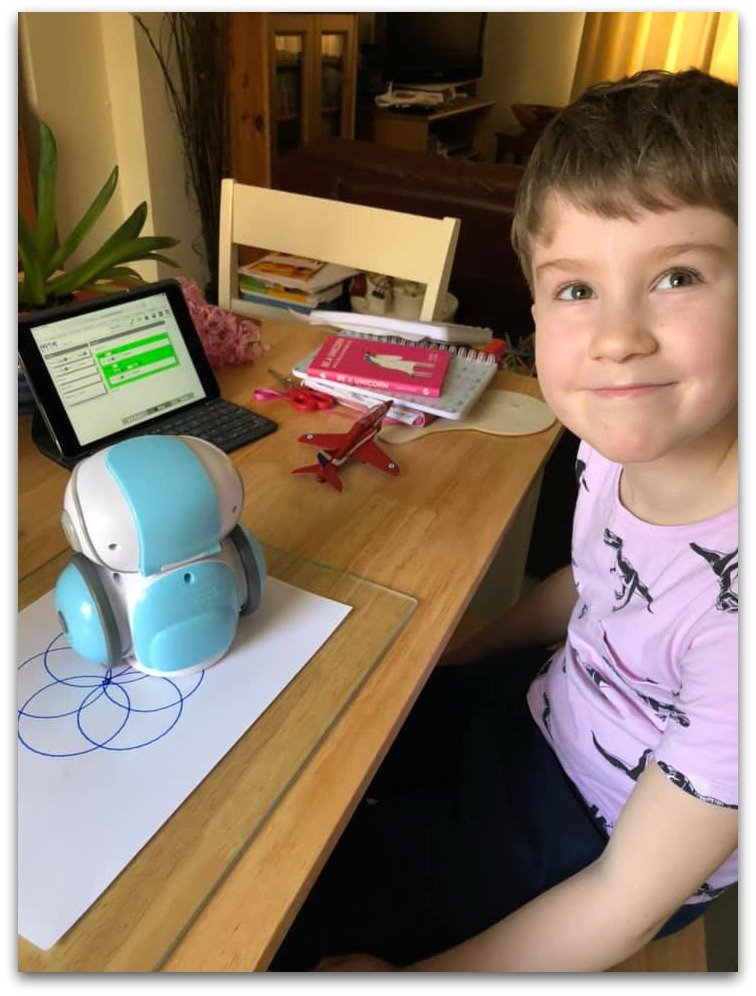 Artie the drawing robot is available now from www.learningresources.co.uk and Amazon.