I always thought pretzels were hard to make for some reason, but apparently not only are they fun and relatively easy to make but are also a good kids recipe too. We often frequent the rather amazing German bakery near us, for giant, salted pretzels (and let's not mention their fabulous cakes, I am on a health kick, or their really good gluten free and spelt breads or I might get hungry and start rummaging in the cupboard for a snack!) but now I know you can make your own, and the kids can help, it is something we will be trying at home…
You will need:
One pack of instant/fast acting yeast
1 teaspoon of sugar
1 teaspoon of salt
175g of plain flour
6-8 tablespoons of water (you need to judge how sticky your dough is with this one, it varies)
1 egg and two tablespoons of sesame seeds (or you can use ground rock salt if sesame seeds are an allergy problem)
Preheat the oven to 200 and line a baking tray with parchment paper.
This recipe makes ten mini pretzels or 5 larger ones. You could double the mixture to make more.
What you need to do:
Mix the yeast, salt, sugar and flour together in a bowl, then add the water, bit by bit, mixing the dough, until it is forming a ball.
Now, it's time to get in there with your hands (and the kids LOVE this bit) and dump the dough onto a lightly floured surface and get kneading.  The idea is to get the gluten/yeast/sugar activated and make the dough feel elastic and pliable.
Once you have kneaded the dough, it needs to rest and rise. Put it back in the mixing bowl, and cover it with a cloth and leave it to do it's thing. You don't need to leave it in a warm place, and the water you add to the flour doesn't need to be warm either, which makes this recipe even easier. After 4 hours the dough should be risen and bubbly.
You punch it back down (the kids liked that bit too) and knead it on a floured surface for a few minutes, until it is pliable and elastic again.
Cut the dough into ten pieces and take each piece and roll it into a roll. (we called them worms and the kids had fun making and naming them) Take the roll or worm and cross it over in the middle to form a loose sort of knot (as you can see in the photos this was very loosely interpreted 😉 ) and press it down at the ends lightly so they stick. Place them the lined baking tray .
Beat the egg in a cup and with a brush, coat the pretzel, and then sprinkle them with the seeds or rock salt.
Bake at 200 for 10 minutes.
If you are patient enough to wait until they are cool, then well done, I have to confess I ate one whilst it was still pretty warm from the oven, but despite the scorched tongue, declared them delicious and the kids all enjoyed them too!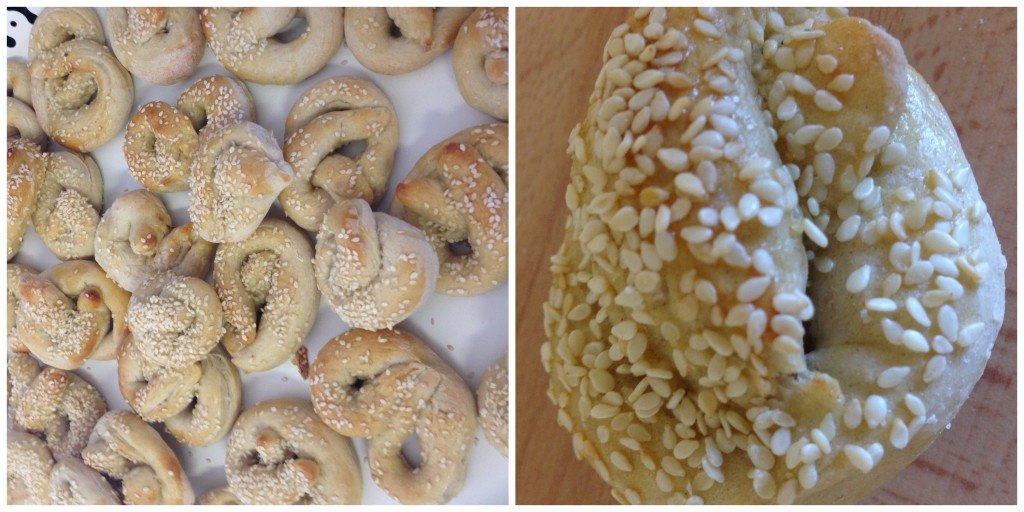 So not as hard as I thought. These are a firm favourite with my kids and don't last long when made.