*This is a book review. We were kindly asked to review some books and are delighted to be part of the Shaun the Sheep Bookstagram event*
"Matthew, WHAT are you reading?"
"Mum, don't you know that there's a new Shaun the Sheep movie coming out soon? I am just brushing up on some space facts with Lula's Guide to Space"

Shaun the rather clever sheep is back, in a new movie, Farmageddon. We are big fans of Shaun, his friends and their antics and the movie sounds like a whole lot of farm crazy fun, to watch.
But before you go to the cinema to watch it you can have some fun reading and learning with Lula's Guide to Space. A colourful and eye-catching book packed with facts and information about space, featuring Lula and her Mossy Bottom friends. There are stickers and posters too.
Learn all about space with Lu-La! This guide is packed with interesting facts, colourful images, stickers, and posters.
Packed with scientific facts to inspire a love for space for inspiring young minds! Perfect for children aged 6+.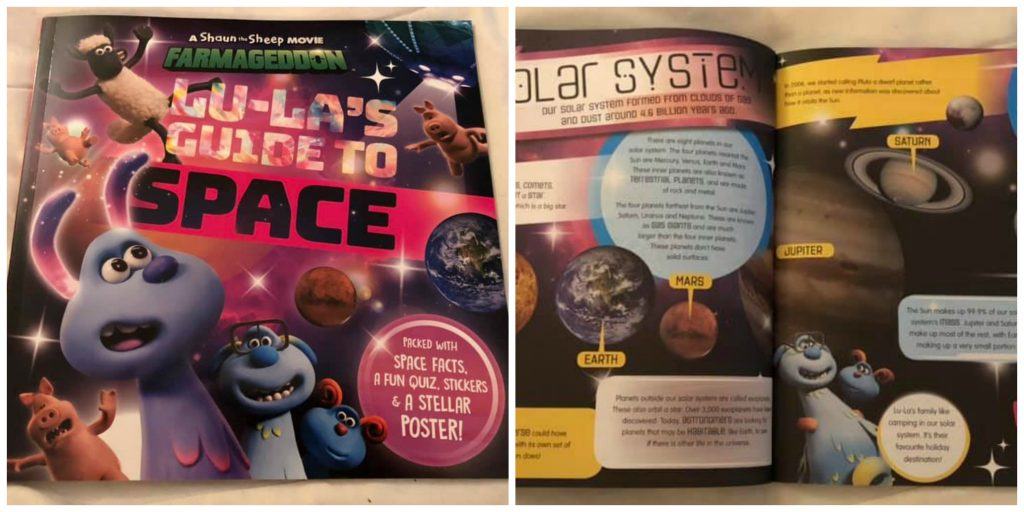 We are currently studying space as a curriculum project so this is perfect to add on to that, in a fun way. I love books that make learning interesting and appealing for kids, and this works perfectly. The illustrations are fun and the book is written in a way that appeals to kids (although I really enjoyed reading it too) and it's a great non-fiction book for reading, and learning. Ideal for home and also perfect for part of a classroom reading collection and it's a good mix of fiction and non-fiction reading levels. Much more interesting and colourful than the books I had to learn about space as a kid. No Lula or Shaun in my day. (I will stop sounding old now)

You can also keep up with Shaun and his antics with a reading book based on the new Farmageddon movie and there is a fun "Where's Shaun" book, and a 2020 Annual too. Perfect as a gift idea for a Shaun fan, or just to add to your book-buying wish list. Books are something I love to buy for my kids and as gifts for others, and these are definitely worth putting on your book wish list.
Plenty of things to keep your kids reading and busy.
Now back to reading about space, Lula and her mates are keeping us busy exploring space.